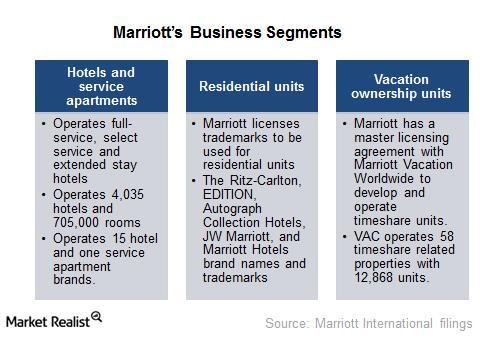 Sizing up Marriott International's Competition in a Tough Industry
Introducing Marriott International's competition
When it started trading as an independent hospitality company in 1992, Marriott International (MAR) owned hotels, residential units, and timeshare businesses. In this part of our series, we'll discuss the competition that Marriott faces in each of these businesses.
Some of Marriott's major competitors, including Hilton Worldwide Holdings (HLT), Hyatt Hotels Corporation (H), Wyndham Worldwide Corporation (WYN), and Starwood Hotels & Resorts Worldwide (HOT), compete in nearly all the same segments. Investors can gain exposure to the hotel sector by investing in the First Trust US IPO Index Fund (FPX), which invests about 6% of its total portfolio in the hotel sector.
Article continues below advertisement
Marriott's business segments and competition
Marriott operates its business under the following three major segments:
hotels
residential units
vacation ownership units
The company operates hotels under not just under the management model but also under the franchise model and the owned and leased model. (More information on this will be provided in later in our series). The company operates 16 brands that cover full-service, select-service, and extended-stay hotels.
The franchise model
Marriott licenses the Ritz-Carlton, EDITION, Autograph Collection Hotels, JW Marriott, and Marriott brand names and trademarks to third-party residential property developers in return for branding fee. These developers sell branded residential real estate, and we should note that Marriott rarely invests capital in these ventures. Hyatt (H), Hilton (HLT), and Starwood (HOT) are some of the company's biggest competitors in branded residential units.
Notably, in 2011, Marriott spun off its timeshare business as Marriott Vacation Worldwide (VAC). Marriott has a master licensing agreement with VAC, which is the exclusive developer and operator of Marriott branded timeshare, fractional, and related products. The company competes with Marriott (MAR), Starwood (HOT), and Wyndham (WYN) in the timeshare segment, and it does not provide revenue breakdown by business segments.
Now let's take a closer look at Marriott International's specific brands.