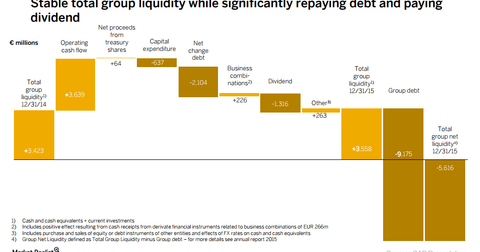 SAP to Officially Propose the Dividend in March 2016
By Anne Shields

Updated
SAP's Cash, debt, and cash flow position in 2015
With a market cap of ~$96 billion, SAP (SAP) is one of the leading players in the enterprise software space. So far in this series, we briefly discussed the company's revenue growth, its operating segment's performance, as well as how the company's ongoing transition is expected to impact its margins. Now, let's take a look at SAP's earnings quality in fiscal 2015.
In fiscal 4Q15, SAP's cash, cash equivalents, and current investments stood at 3.4 billion euros. It generated OCF (operating cash flow) and FCF (free cash flow) worth 3.6 billion euros and $3 billion, respectively. OCF and FCF grew 4% and 8.6% on a year-over-year basis, respectively. According to Capital IQ, SAP's debt as of 4Q15 stood at $10.3 billion.
Article continues below advertisement
SAP's dividends for 2015 could be the same as 2014
According to a recent Wall Street Journal report, SAP's chief financial officer Luka Mucic stated that the company's dividend payment to its shareholders for 2015 would, at least, be the same as the company paid back in 2014, at 1.10 euros. However, officially, the dividend would be proposed in March 2016.
SAP's decent margins, cash reserves, and cash flows ensure that the company can finance its dividend payments without depending too much on debt to finance it. Sometimes, companies can resort to debt-to-fund share buybacks and dividends to lure investors and shareholders. According to the Wall Street Journal, proceeds from some of the largest bond issuances in 2015, namely, from Microsoft Corporation (MSFT), Qualcomm (QCOM), and Oracle Corporation (ORCL), were directed toward share repurchases and dividends.
You could consider investing in the First Trust ISE Cloud Computing Index Fund (SKYY) to gain exposure to SAP. The company makes up ~3.7% of SKYY. Also, investors who would like application software exposure could consider this ETF. Application software makes up ~50% of SKYY.