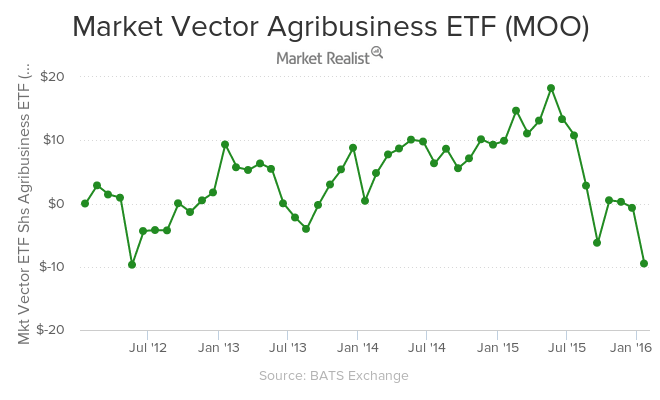 The Prevalent Price of Potash in 2016
Fertilizer prices, MOO, and your investments
Fertilizer prices are one of the most important indicators to watch for when considering your investments in agricultural fertilizer companies such as Potash Corporation (POT), the Mosaic Company (MOS), Agrium (AGU), and CF Industries (CF). The Market Vector Agribusiness ETF (MOO) directs about 11.1% of its investments in the above three companies, and revenues of these companies are highly impacted by the prevalent and expected potash prices in the market.
[marketrealist-chart id=977506]
Article continues below advertisement
Who's been watching MOO lately?
As of January 19, 2016, the VanEck Vectors Agribusiness ETF (MOO) returned -12.7% in 2015. YTD (year-to-date) as of January 19, the ETF is down by 8%. Companies such as Potash Corporation, Mosaic, and CF Industries saw returns of -51.2%, -40%, and -25.7%, respectively, in 2015, and these negative returns are evidence of poor agricultural environment both in 2015 and potentially in 2016.
Understanding potash and the fertilizers price index
The chart above shows that the fertilizer prices have fallen over the past few years. The World Bank's fertilizer price index is calculated by taking all three NPK (nitrogen, phosphate, and potassium) fertilizers into account with 41.3% weight share of nitrogen, 38.6% share of phosphate and natural phosphate rock, and the remaining 20.1% share of potassium fertilizer as on October 15. This was indexed to 100 in 2010, and the World Bank forecasts fertilizer price index to be 95 in 2016 flat from 2015.
One notable fact in all of this is that potash- and phosphate-based fertilizers are not applied as frequently as nitrogen is. When fertilizer prices were high a few years back, several players invested in capacity expansion with many of them coming live in 2016.
Falling commodity prices will also likely challenge the demand for fertilizer consumption in 2016 putting further pressure on prices. For this reason, potash prices are highly important for the well-being of companies such as Potash Corporation (POT), the Mosaic Company (MOS), Uralkali, and Belaruskali.
Continue to the corresponding part of this series for a look at prevalent potash prices as well as at what we can reasonably expect for 2016.