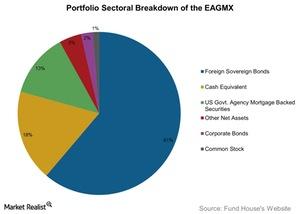 An Overview of EAGMX's Macro Holdings
By Ivan Kading

Nov. 20 2020, Updated 5:10 p.m. ET
Global macro
The global macro hedge fund strategy aims to generate absolute returns by investing in equity, fixed income, currency, and futures from various countries. This approach is based on the macroeconomic views and political culture of foreign countries.
The Eaton Vance Global Macro Absolute Return Fund – Class A (EAGMX) applies its global macroeconomic and political research process in directing its fund investments. The fund holdings include investments in various assets classes such as foreign sovereign bonds, common stocks issued in different countries, and currencies. The graph below gives the sectoral portfolio breakdown of EAGMX at the end of 3Q15, which is the latest available report.
Article continues below advertisement
Portfolio breakdown
EAGMX was managing $4.3 billion in total net assets as of November 30, 2015. Geographically, EAGMX's funds are allocated to bonds issued in a variety of countries. The bonds issued in the US, Serbia, and Russia represent 4.9%, 3.5%, and 2.9% of the fund's assets, respectively. The fund also holds currency forward contracts of currencies such as the Serbian dinar, the Icelandic krona, and the Indian rupee. The fund also holds investments in an array of commodities and foreign stocks.
Sovereign credit default swaps (or CDS) comprise almost 10% of EAGMX's holdings. A CDS is an instrument that buyers use to insure against potential losses arising from default by the issuer of the bonds.
The fund also contains forward contracts of various indexes such as the Nikkei 225 Index, the HSCEI Equity Index, and the S&P 500 Index (VFINX). The S&P 500 Index holds popular stocks such as Apple (AAPL), Exxon Mobil (XOM), Amazon (AMZN), and Facebook (FB).
The next article of this series examines the investment methodology of EAGMX.