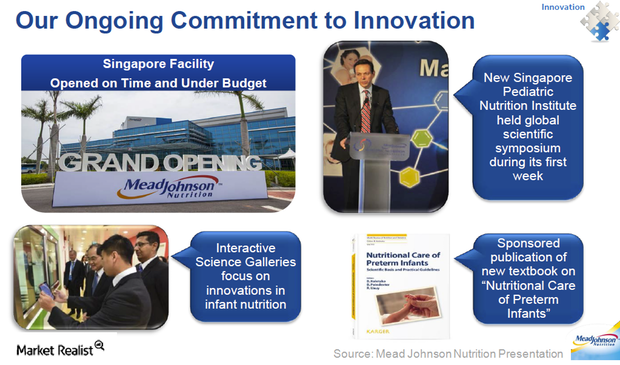 Mead Johnson Plans to Focus on R&D to Support Innovations
Mead Johnson's innovations
Mead Johnson Nutrition (MJN) has set a core strategy of investment in science and innovation. In 2014, the company relaunched its category-leading Enfa franchise in many markets with improved formulations and fresh packaging. It also expanded its liquids portfolio into several new markets and continued the rollout of key specialty formulas across Asia. The company also witnessed market share gains in ten of the top 15 markets worldwide.
The company also wants to be a leader in digital innovation, the most significant trend in the world.
Article continues below advertisement
For Mead Johnson, R&D supports innovation
Mead Johnson has six R&D (research and development) centers globally and it also operates four PTIs (pediatric nutrition institutes). R&D activities include continued investments in innovation capability, product pipeline, and quality programs. For scientific and technological development in the pediatric nutrition category, the company manages its R&D activities in collaboration with leading scientists and institutions around the world, and it also has an active portfolio of projects involving commercial technology suppliers.
Nestlé (NSRGY), by comparison, also carries out large-scale studies together with leading scientists of children's diet and lifestyles in order to develop healthier products. Abbott Laboratories (ABT) has launched, on an average, 70 products annually for several years in nutrition business category including some innovative customizations.
As of December 31, 2014, Mead Johnson either has or owns the following:
licenses for about 67 active US patents
450 active non-U.S. patents
106 pending US patent applications
853 pending non-US patent applications
more than 6,900 trademark registrations and applications in more than 100 countries worldwide
Article continues below advertisement
Mead Johnson's R&D spending
The company maintains its spending on R&D to support its innovation. The company incurred R&D expenses of $115.1 million, $100.2 million, and $100.1 million during fiscal years 2014, 2013, and 2012, respectively. In 2014, its R&D expenses represented 2.5% of sales, which translated into a strong double-digit increase in investments in science and innovative initiatives.
MJN's ETF exposure
MJN has a weight of 0.09% in the iShares Core S&P 500 ETF (IVV). IVV measures the performance of the large-cap sector of the US equities market that track the top 500 stocks. MJN has a weight of 0.09% in the iShares Russell 1000 Growth ETF (IWF), a growth-oriented ETF.
Now let's look at Mead Johnson's approach toward expansion.