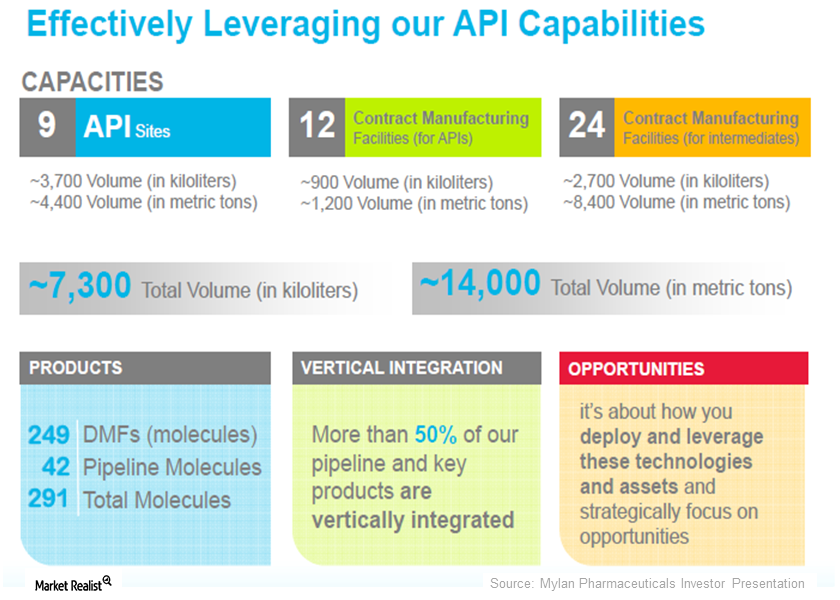 How Has Manufacturing Its Own Active Pharmaceutical Ingredients Helped Mylan?
Active pharmaceutical ingredient manufacturing
Mylan NV (MYL) is one of largest API (active pharmaceutical ingredient) manufacturers in the world. The company owns nine API and intermediate manufacturing facilities, four FDF (finished dosage form) facilities, and eight injectable facilities.
Article continues below advertisement
Article continues below advertisement
API composition
API and excipient are the two major components of any drug. The World Health Organization explains that API as "any substance or combination of substances used in FPP (finished pharmaceutical product), intended to furnish pharmacological activity or to otherwise have direct effect on diagnosis, cure, mitigation, treatment or prevention disease, or to have direct effect in restoring, correcting, or modifying physiological functions in human being."
The finished dosage form is the final drug product such as the tablet, capsule or solution. The company manufactures and supplies raw material as well as finished products for its products and pipelines, as well as for third parties.
API approval
Generally, API manufacturers register a DMF (drug master file) with FDA (US Food and Drug Administration) for inspection. According to the FDA's website, a DMF is a "submission to the FDA that may be used to provide detailed confidential information about facilities, processes, or articles used in the manufacturing, processing, packaging and storing of one or more human drugs." The FDA has successfully inspected eight API facilities, two FDF facilities, and four injectable facilities.
Mylan's strategy to compete
To compete with other API manufacturers such as Teva Pharmaceutical Industries (TEVA), GlaxoSmithKline Pharmaceuticals (GSK), and Novartis AG (NVS), Mylan is using strict testing and verification processes that will ensure adherence to high quality and standards.
Instead of directly investing in Mylan, investors can get diversified exposure to Mylan's stock through the PowerShares Dynamic Pharmaceuticals Portfolio ETF (PJP), which has about 4.1% of its total holdings in Mylan.
Now that we've discussed Mylan's segments and product portfolio, let's take a look at its recent acquisitions.