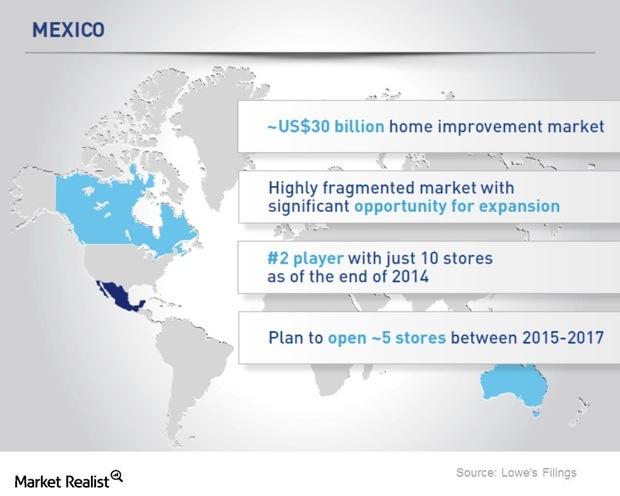 Which International Opportunities Is Lowe's Betting On?
Lowe's in international markets
Lowe's (LOW) operates stores in the select overseas markets of Canada and Mexico. As of the end of fiscal 2015, the company operated 37 stores in Canada and ten stores in Mexico. Lowe's also operates a one-third owned joint venture (or JV) in Australia with local partner Woolworths (WOLWF).
Article continues below advertisement
Article continues below advertisement
Market size
Presently, most of Lowe's sales stem from the US (VOO) (IVV) market. In fact, Lowe's doesn't report a specific number for international revenue, as it's insignificant to the overall picture. Rival Home Depot (HD) also derives most of its sales, ~90% in the last fiscal year, from the US. However, both firms have operations in Canada and Mexico. Pier 1 Imports (PIR) also has stores in Canada. In Mexico, the retailer's products are available at select Sears de Mexico locations.
Lowe's had 47 stores in Canada and Mexico at the end of fiscal 2015 compared to 1,793 in the US. Lowe's has estimated the size of the Canada and Mexico home improvement markets at $40 billion and $30 billion, respectively. The company is the number two home improvement retailer in Mexico and the third-largest in Canada.
Article continues below advertisement
International opportunities
Despite the relatively lower contribution from its international operations, Lowe's has plans to increase its presence in Canada and Mexico. The company is projecting 25 new stores in Canada and five new stores in Mexico between fiscal 2016 and fiscal 2018. Rival Home Depot is also bullish on the prospects for these two markets and plans to increase its store count there.
Australia exit
On January 18, 2016, Lowe's announced it was exiting its Australia JV to focus on investments providing a higher return on investment, according to Richard D. Maltsbarger, Lowe's chief development officer and president of international operations. The JV presently operates over 60 stores in Australia under the Masters Home Improvement banner, as well as the retail and wholesale operations of the Home Timber and Hardware Group. The JV recorded sales of $1.6 billion in its last fiscal year.
Lowe's has invested $930 million to date in the JV. It holds the right to exit the JV based on a fair market valuation. The company plans to record a non-cash impairment charge on its investment in 4Q16, based on the valuation of its stake in the JV. At present, the company hasn't disclosed a dollar figure for the financial impact of the exit.