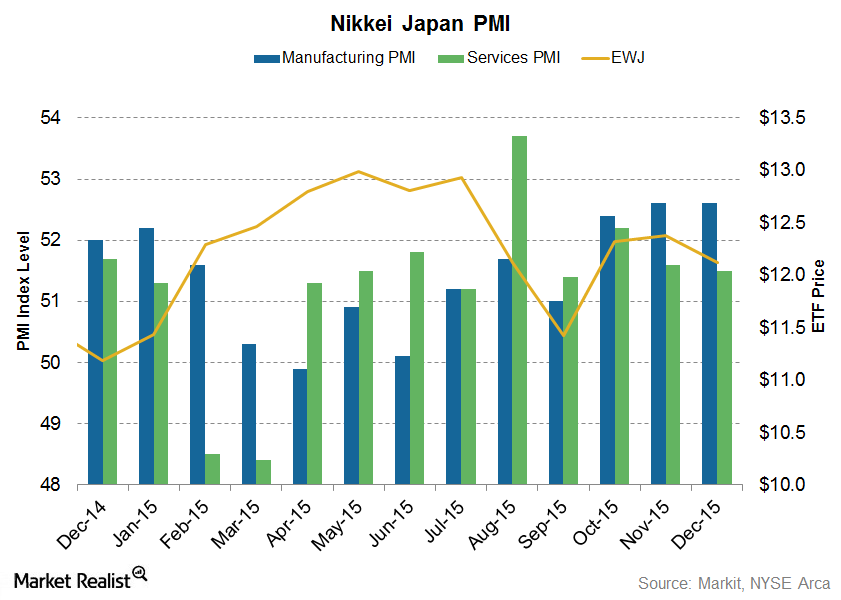 Japan's Service Activity Saw Modest Expansion in December 2015
By Lara Sheldon

Dec. 4 2020, Updated 10:53 a.m. ET
Japanese services PMI slightly changed at 51.5 in December
The service sector accounts for ~72.6% of Japan's GDP. According to Markit, Japan's services PMI (purchasing managers' index) dipped slightly to 51.5 in December 2015, as compared to 51.6 in November 2015.
As a result, the iShares MSCI Japan ETF (EWJ) and the WisdomTree Japan Hedged Equity ETF (DXJ) fell 1.7% and 2.2%, respectively, on January 6. Over the past month, EWJ and DXJ have declined 4.2% and 12.8%, respectively, as of January 6.
Sony Corporation (SNE), Mitsubishi UFJ Financial Group (MTU), Honda Motor Co. (HMC), and Toyota Motor Corporation (TM) fell by 6.6%, 6.0%, 7.3%, and 5.4%, respectively, over the past month as of January 6.
Article continues below advertisement
Outlook for 2016 seems positive
Commenting on the Japanese Services PMI survey data, Amy Brownbill, economist at Markit, said in a press release, "New business growth in the service sector accelerated to a four-month high in December, supporting a further increase in both output and employment. With workforce numbers increasing in both the manufacturing and service sector it could lead to a further fall in the official unemployment rate, which dropped to 3.1% in October (the lowest in over 20 years)."
Brownbill added, "Meanwhile, forecasts for output growth over the next 12 months were the strongest since August, suggesting a positive outlook for the New Year."
New product launches help increase demand December
December's readings saw an increase in service sector activity, with a solid rise in new orders. New product launches and their advertising campaigns helped gather steam for new product demand in domestic and international markets.
An increase in new orders led to a rise in employment in December. Despite a rise in workforce numbers, volumes of unfinished business at services firms accumulated.
Input cost increases in December
Input costs for service providers increased with an increase in food costs and staff medicine costs. Japanese service providers passed these increased costs to their customers in December.
With continued strong reading in December, the service sector expects further growth. It is forecasted that stronger demand may be generated from the preparations in hosting the 2020 Olympic Games in Tokyo.
To learn more about service sector activity, please read Russia's Service Sector Shrinks Further in December. To remain updated on the economic front, please refer to our Global ETF Analysis page.