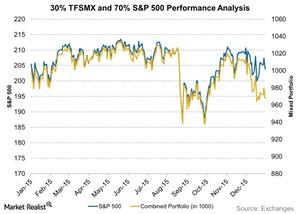 What Would Investment in TFSMX Mean for Your Portfolio?
By Ivan Kading

Nov. 20 2020, Updated 10:57 a.m. ET
Alternative fund benefits
Different alternative mutual funds perform different functions for a portfolio. Some alternative funds are focused on reducing the overall volatility risk of their portfolios, while others seek to generate absolute returns for their investors.
The TFS Market Neutral Fund (TFSMX) is an alternative mutual fund that seeks to build a low volatility portfolio. The fund's top holdings include stocks such as YRC Worldwide (YRCW), MRC Global (MRC), Tech Data (TECD), and Concert Pharmaceuticals (CNCE), among others.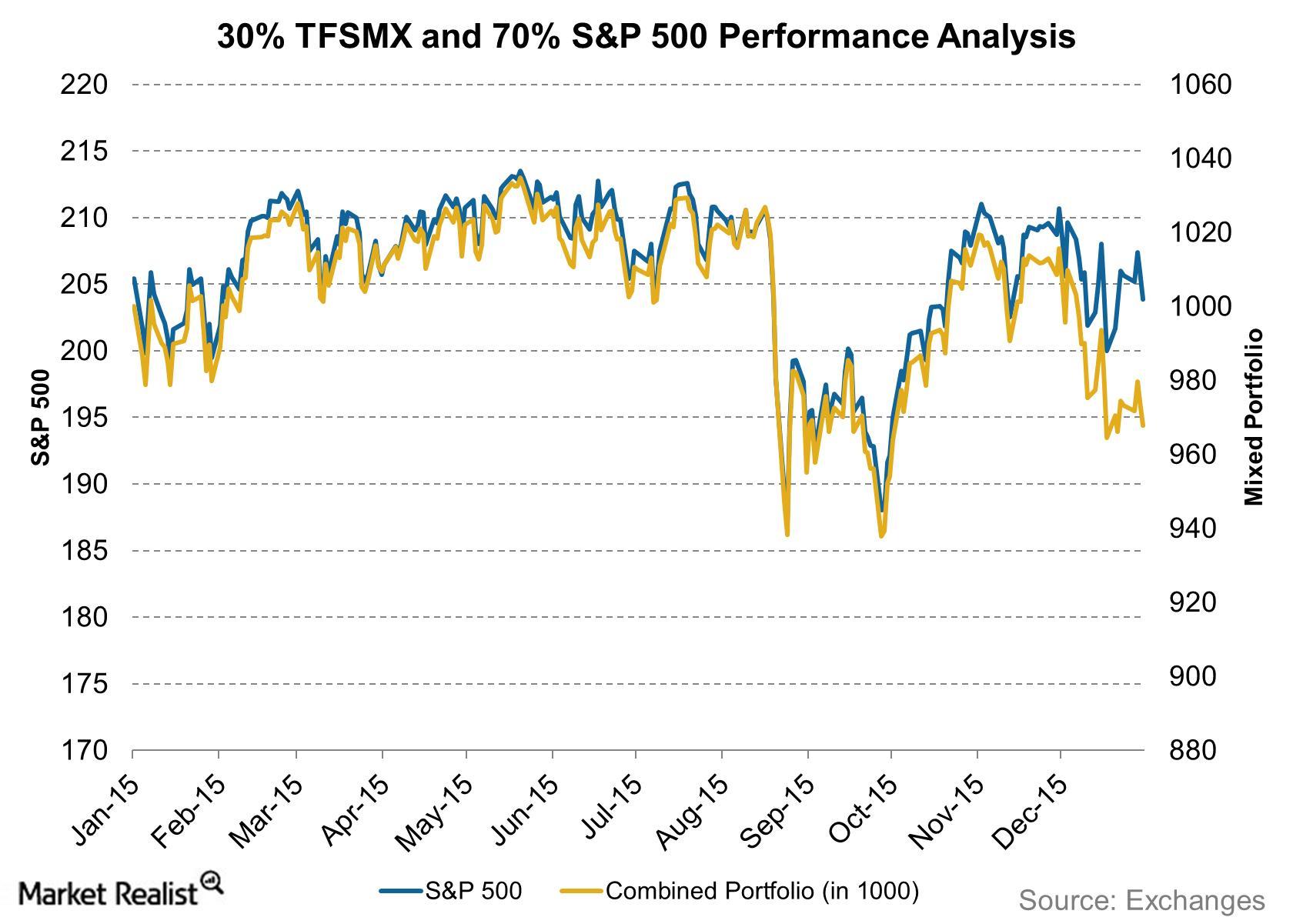 The benchmark index for the TFSMX is the S&P 500 Index (VFINX). The chart above compares the return performance of a mixed portfolio consisting of 30% of TFSMX and 70% of VFINX with the return performance of VFINX alone in 2015.
Article continues below advertisement
Reduced volatility, reduced returns
The S&P 500 Index performed better than TFSMX in 2015. Though both have gave negative returns to their investors, TFSMX, being an alternative fund, was less volatile compared to the S&P 500 Index.
The inclusion of TFSMX in one's portfolio may reduce its overall volatility risk, thereby reducing the downside risk of the portfolio considerably. The annualized standard deviation of TFSMX is 7.5% compared to the S&P 500 Index's standard deviation of 8%.
The top holdings of the S&P 500 include stocks such as Apple (AAPL), Microsoft (MSFT), and Amazon (AMZN), among others.
Conclusion
TFSMX is an alternative mutual fund that uses a market-neutral strategy to achieve capital appreciation while maintaining low risk. To achieve this, the fund takes a long position in securities that it believes to be undervalued, and takes short positions in those it believes to be overvalued.
Alternative funds can also give exposure to the precious metals sector. Read First Eagle Gold Fund Class ­A (SGGDX) for more information.