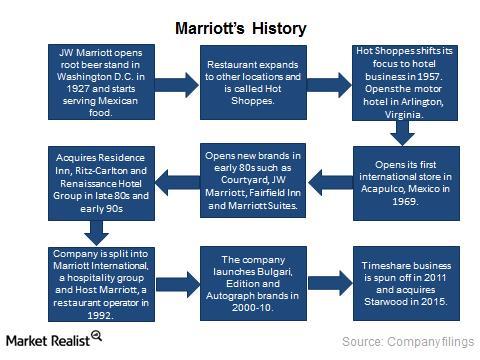 Introducing Marriott International: Your Key Company Overview
An introduction to Marriott International
Marriott International (MAR) is known for its wide range of brands that operate hotels from the budget range to the luxurious segment. The company owned 19 brands running 4,175 hotels as of December 31, 2014, and Marriott International will become the world's largest hotel chain after its acquisition of Starwood Hotels & Resorts Worldwide (HOT), which was announced in November 2015. The combined company should have a market share, by number of rooms, of more than 15% in the US. This is higher than Marriott's closest competitors, Hilton Worldwide Holdings (HLT) and Wyndham Worldwide Corporation (WYN), which have a domestic market share of ~10% and ~9% respectively.
Marriott International, which is headquartered in Bethesda, Maryland, is known for its a range of well-known brands including JW Marriott, Ritz-Carlton, Autograph Collection, and Renaissance Hotels. But Marriott did not become such a big gun in hospitality in the US and around the world overnight.
Article continues below advertisement
A brief history of Marriott: from root beer stand to hospitality giant
Marriott was founded by J. Willard Marriott as a root beer stand in Washington D.C. in 1927. The root beer stand added Mexican food to its menu that same year and called the restaurant Hot Shoppes. After the success of its restaurant business, Hot Shoppes shifted its focus to the hotel business in 1957 by opening the world's first motor hotel, or "motel," in Arlington, Virginia. In 1969, the company opens its first international hotel in Acapulco, Mexico.
By the 1980s, the company had started targeting different groups of customers by opening hotels under various brands such as Courtyard, JW Marriott, Fairfield Inn, and Marriott Suites. In the late 80s and early 90s, the company expanded by acquiring Residence Inn, Ritz-Carlton, and Renaissance Hotel Group. The company was now known as Marriott Corporation until, in 1992, it split into Marriott International, which consisted of hospitality businesses, and Host Marriott, which concentrated on food businesses.
ETF exposure and series guide
Investors can gain exposure to the lodging sector by investing in the First Trust Consumer Discretionary AlphaDEX Fund (FXD). FXD invests 9.32% in the lodging sector.
In this 15-part series, we'll do an exhaustive and up-to-date analysis of Marriott International's current business from a nuts-and-bolts investment perspective. The following list can serve as your guide: