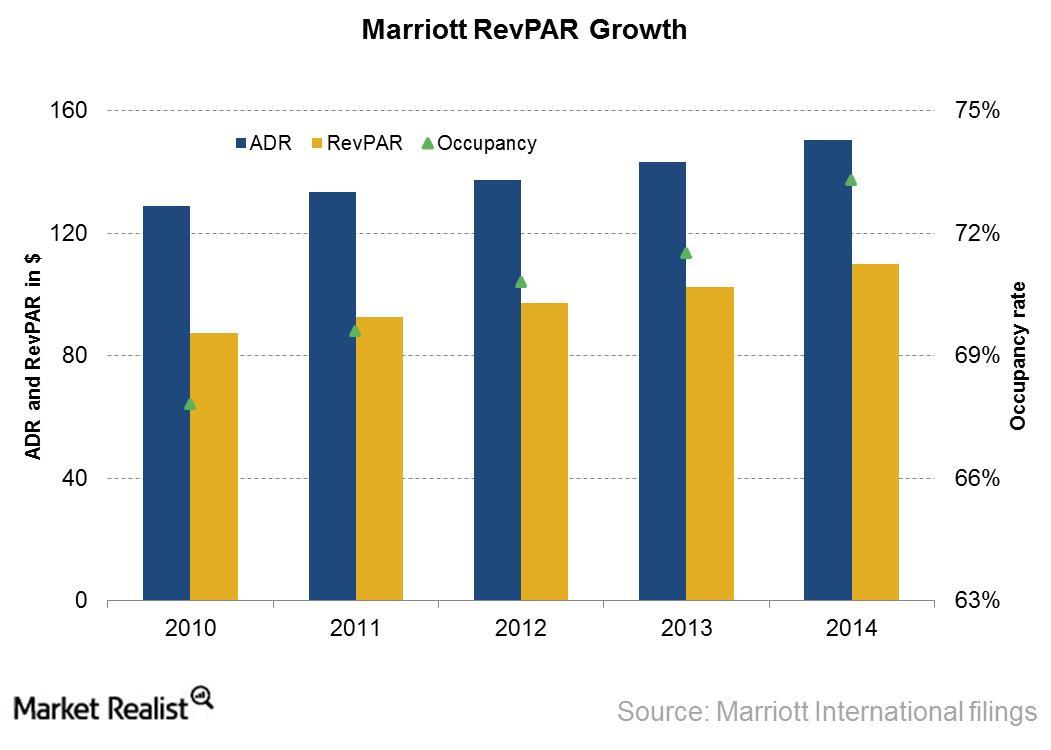 Industry-Wide Demand Growth Drives Marriott International's RevPAR
Why RevPAR matters in the hotel and hospitality world
To a noteworthy degree, Marriott International (MAR) has been growing its RevPAR (revenue per available room), which is calculated by dividing total guest room revenues by the total number of available rooms over the last five years. The company saw strong increases in its RevPAR—from $87 to $110—between 2010 and 2014.
RevPAR is a simple way to understand the operations of the company as it is influenced by both average daily rate and occupancy rates. It can be used to compare brands within a company and analyze the company's performance over a period of time, and RevPAR can also be used to analyze and compare the performance of the company with its competitors.
Article continues below advertisement
Breaking down Marriott's RevPAR compared with those of competitors
The consistent growth in RevPAR over the years was largely driven by the strong performance of Marriott in North America. In 2014 alone Marriott saw year-over-year growth of 7% in its RevPAR from North America driven largely by strong growth in average rate or ADR. The hotel industry is cyclical, and so its performance largely depends on the general economic environment. Stable and growing US economy has driven both ADR and occupancy rates in the US in last five years.
When it comes to competition, Marriott has an average RevPAR at $110 in 2014. Among its peers, Hyatt Hotels Corporation recorded the highest RevPAR—at $167—followed by Starwood Hotels & Resorts Worldwide (HOT) at $123, Hilton Worldwide Holdings (HLT) at $114, and Wyndham Worldwide Corporation (WYN) at $37.6. This is due to Marriott's larger presence in the midscale segment, which records lower rates than in its luxury or upscale segments.
Industry-wide demand
However, it is interesting to note that the average RevPAR in the US lodging industry increased from $56.7 in 2010 to $79 in 2014, a growth of 41% driven largely by the growing demand and low supply growth. Marriott grew its RevPAR by 26% in the same period.
Investors can gain exposure to the lodging sector by investing in the First Trust Consumer Discretionary AlphaDEX Fund (FXD), which has approximately 9.3% of its total holdings in the lodging sector.
Now it's time to analyze Marriott International's cost reimbursements.