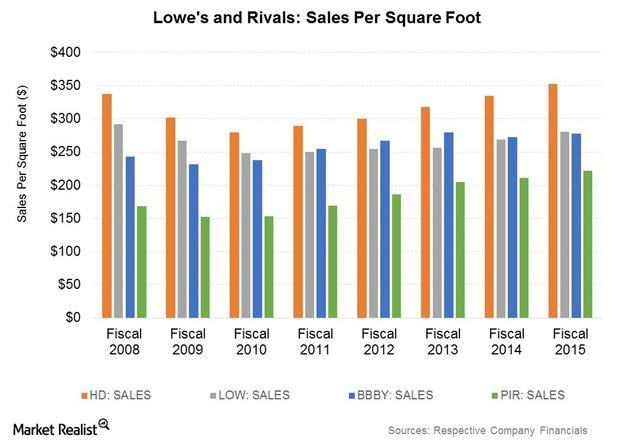 Why Lowe's Store Productivity Is Growing Faster than Home Depot's
Analyzing store productivity metrics among home improvement chains
It's important for brick-and-mortar retailers (XLY) like Lowe's (LOW) to drive relevance in physical stores, as shoppers increasingly spend more online. This is particularly important for big-box retailers like Lowe's (LOW), Home Depot (HD), and Best Buy (BBY), as the space requirement at stores is considerable. One of the ways retailers can track their store performance is via productivity measures like sales and profitability per retail square foot.
Article continues below advertisement
Article continues below advertisement
Comparing store sizes
At Lowe's, the standard store averages 112,000 square feet with an additional 32,000 square feet outdoors. In contrast, at HD, the average store size is approximately 104,000 square feet indoors and 24,000 square feet outdoors for garden products and supplies.
Productivity enhancements
Lowe's has tried to maximize the revenue per square foot of retail space at its stores. Sales per square foot of retail space rose from $249 in fiscal 2010 to $280 in fiscal 2015, a compounded annual growth rate (IWF) of 2.4%. Upside has been provided by both a higher number of transactions and a higher average ticket size. Lowe's has also benefited from the increasing contribution of online sales.
However, the metric still trails the retailer's performance in pre-recession levels. In fiscal 2007, Lowe's clocked $312 per square foot. The company is targeting $300 this year.
Article continues below advertisement
Lowe's has also looked at maximizing profitability by optimizing its inventory and merchandising assortment at stores. Only about 36,000 SKUs (or stock keeping units) are available at the average Lowe's store. However, the online assortment numbers are in the hundreds of thousands. This saves both brick-and-mortar space and also allows the retailer to better serve local requirements.
How are competitors faring?
In contrast, HD grew sales per square foot to $352 last fiscal year, a compounded annual growth rate of 4.7% between fiscal 2010 and fiscal 2015. Store productivity growth has been almost two times that of Lowe's due to both higher online sales, and also due to much slower growth in net store count. Lowe's has invested in both new stores over the period, and also acquired Orchard Supply Hardware, which runs smaller stores on the West Coast, as we'll discuss in the next article.
Luxury retailer Restoration Hardware (RH) made about $3,308 in sales per retail square foot last fiscal year. That's partly due to the more expensive merchandise, and partly due to the significantly higher contribution of online sales. RH derived ~50% of its sales online in the last fiscal year.