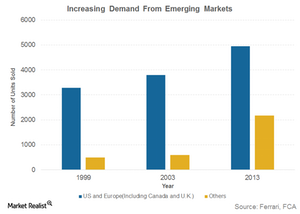 Ferrari Has Its Own Space in the Luxury Supercar Segment
Growing luxury supercar industry
Unlike the overall automobile industry, the luxury supercar segment is a special segment that focuses majorly on performance, luxury, and comfort of the vehicle rather than factors like vehicle price and fuel efficiency.
According to a report by Bain and Company, the global luxury car market significantly expanded to 351 billion euros in 2014 with a 10% growth from the previous year. The overall demand for the luxury supercar segment is also dependent on macroeconomic factors and growth in the wealthy segment around the world. For example, nearly a decade ago, luxury vehicle sales were majorly limited to the US, Europe, and other developed economies. But the trend has gradually changed with an increased number of market players planning to capture the target population with high disposable income from emerging markets.
Article continues below advertisement
A reflection of increasing demand from emerging markets can be seen in Ferrari's sales figures as well. In 2003, the US and Europe combined accounted for approximately 82% of the total sales volume, whereas this contribution decreased to nearly 67% in 2013. This data primarily showcases increasing contribution of geographic markets other than the US and Europe. Notably, Greater China (China, Hong Kong, and Taiwan) remained the second largest market globally for Ferrari in the year 2013, amounting to 16% of total units sold.
The luxury car industry
Ferrari (RACE) is considered a symbol of power, speed, and passion by many motorsport enthusiasts. There are only a few key market players in the luxury supercar segment.
Despite the popularity of other luxury supercar manufacturers, Ferrari enjoys its own space in this segment. As discussed earlier in this series, the main driving factor behind Ferrari's extremely strong brand image and its supercar demand is associated with the success of its Formula 1 racing team, Scuderia Ferrari. Being the owner of the most successful motorsport racing team gives Ferrari an edge over its competitors and the continued success of this team gives hope to Ferrari for the future. The company has the ability to sell its supercars at a very high price to remain highly profitable.
Ferrari's two main competitor brands, Porsche (POAHF) and Lamborghini, are owned by Volkswagen AG (VLKAY). BMW (BAMXY) and Daimler (DDAIF) are other important competing brands. Note that the Consumer Discretionary Select Sector SPDR ETF (XLY) holds 2.4% of its portfolio in Ford Motor Company. Currently, Amazon (AMZN) makes up nearly ~10.6% of the fund.