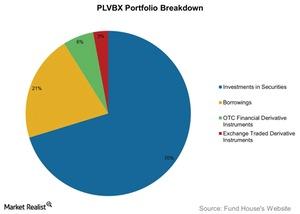 A Detailed Portfolio Analysis of PLVBX
By Ivan Kading

Nov. 20 2020, Updated 2:34 p.m. ET
Geographic focus
The PIMCO RAE Low Volatility Plus International Fund – Class A (PLVBX) portfolio consists of securities that are issued all over the world. This helps the fund have a widespread geographical focus. The fund managed total assets worth $1.7 billion at the end of November 2015. The fund's top ten holdings represented 47.6% of the fund's total assets. The fund has a net expense ratio of 1.2%.
The above graph gives a pictorial representation of the fund's portfolio structure.
Article continues below advertisement
Portfolio breakdown
PLVBX's holdings include investments in fixed income securities of various corporates like Bank of America (BAC), Ally Financial (ALLY)—a subsidiary of General Motors (GM), and JPMorgan Chase (JPM) including many mortgage-backed and asset-backed securities. It's important to note that 70.2% of PLVBX's portfolio is allocated to such fixed income securities. In addition, PLVBX's portfolio also consists OTC (over-the-counter) financial derivatives of various foreign currencies and interest rate swaps. The fund is also invested in its own subsidiary the PIMCO Short-Term Floating NAV Portfolio III.
The fund contains exchange-traded futures contracts of 90-day Eurodollars, US Treasury, and Australian government ten-year bonds among its portfolio. PLVBX's whole portfolio is divided between fixed income securities of corporates and government bonds and various derivative forwards, futures, options, and swap contracts.
In the next part of the series, we'll analyze the impact of adding PLVBX to a portfolio with the S&P 500 Index's (VFINX) holdings.