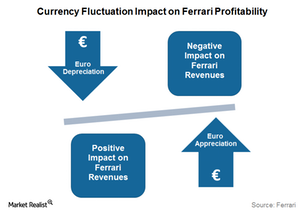 How the Depreciating Euro Has Affected Ferrari's Profitability
Demand and sales figures
Since its first day of trading on October 21 on the NYSE (New York Stock Exchange), Ferrari (RACE) has fallen by ~10% to $46.62. For 3Q15, Ferrari's net profits amounted to 94 million euros, up by 65% as compared to the corresponding quarter last year. This rise in net revenue is a result of a 21% increase in units shipped. According to the company's estimates for 2015, sales figures should be the highest in Ferrari's history.
Article continues below advertisement
Article continues below advertisement
Ferrari had already sold 5,643 units in the first three quarters of 2015. Ferrari expected this number to reach 7,700 units by the end of the year against 7,255 units in 2014. Ferrari's former chair Luca Cordero di Montezemolo previously announced the company would limit sales figures to approximately 7,000 units, "to maintain a reputation of exclusivity among purchasers." After his departure in October 2014, analysts expected a significant rise in sales figures.
Impact of the depreciating euro
Ferrari sells its sports and GT cars globally in 60 markets as of 2014. Ferrari channels its sales through a network of 182 Ferrari authorized dealers. This exposure to international markets also has an impact on Ferrari's profitability, mainly because of the payments made in multiple currencies and the payment schedule. However, the recent appreciation of the US dollar positively impacted the profitability of Ferrari, as the company's costs are majorly denominated in the euro.
In the first quarter of 2015 alone, currency fluctuations accounted for 11 million euros out of the 96 million euros in total EBIT reported by the company. However, the euro's appreciation against other major currencies may negatively impact the profitability of Ferrari.
However, US investors may not be affected much by currency fluctuation, as Ferrari's demand is not concentrated to just Europe.
Article continues below advertisement
Likewise, other automobile companies based in Italy and Germany such as Volkswagen (VLKAY), Porsche (POAHF), and BMW (BAMXY) also benefit from the depreciation in the euro. Note that EV car manufacturer Tesla Motors (TSLA) relies on company-owned stores and online portals for its sales unlike other automobile manufacturers including Ferrari.
Engine supply to other companies
In addition to its own car production, Ferrari also supplies car engines to some other Formula 1 racing participants and for Maserati luxury road cars. In 1997, Ferrari took over ownership of the Maserati brand from the Fiat Group. However, the ownership was re-acquired by Fiat Group in 2005. To date, Ferrari develops and manufactures the engines for Maserati cars. As noted earlier, Fiat Group is now known as Fiat Chrysler Automobiles (FCAU). FCA Group makes up 2.5% of the Guru Index ETF (GURU), which has 23.8% exposure to the consumer cyclical sector.
Interestingly, Ferrari has been manufacturing F160 3-liter V6 Turbo engines exclusively for Maserati since 2011. Note that Ferrari's profit margins from engine production are lower than margins from car manufacturing. In 2014, the supply of engines accounted for around 311 million euros out of 2,762 million euros in total net revenues. On the other hand, sales of automobile and spare parts contributed nearly 1,943 million euros in the same year.