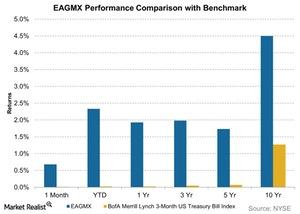 A Deep Dive into the Alternative Fund EAGMX
By Ivan Kading

Nov. 20 2020, Updated 10:52 a.m. ET
Easy-access hedge funds
Alternative mutual funds are one of the fastest-growing asset classes in the mutual fund industry. An alternative fund gives retail investors access to hedge fund strategies that include long/short equity, global macro, market neutral, and distressed debt that are otherwise accessible only to institutional investors.
One such alternative fund is the Eaton Vance Global Macro Absolute Return Fund – Class A (EAGMX), which uses the popular global macro hedge fund strategy. The primary benchmark of EAGMX is the BofA Merrill Lynch 3-Month US Treasury Bill Index. A historical performance comparison of EAGMX with its benchmark is shown in the graph below.
Article continues below advertisement
Comparison with the benchmark
The Eaton Vance Global Macro Absolute Return Fund – Class A (EAGMX) has successfully outperformed its benchmark index across various periods. Similarly, looking at a long-term perspective, the fund gave a higher annualized ten-year return of 4.5% to its investors compared to its benchmark return of 1.27%.
EAGMX's background
The EAGMX is managed by John R. Baur, Michael A. Cirami, and Eric Stein of Eaton Vance Management. The fund was launched on June 27, 2007. Since then, it has given a total return of 5.59% to its investors as of the end of November 2015.
The fund's portfolio consists of fixed income debt instrument from various countries. The fund also holds derivative contracts of various indexes such as the Tokyo Price Index, the Singapore Exchange NIFTY Index, and the S&P 500 Index (VFINX). The S&P 500 Index is composed of stocks such as Apple (AAPL), Microsoft (MSFT), Johnson & Johnson (JNJ), and JPMorgan Chase (JPM).
We will provide a detailed holdings analysis of EAGMX's holdings in the next article.