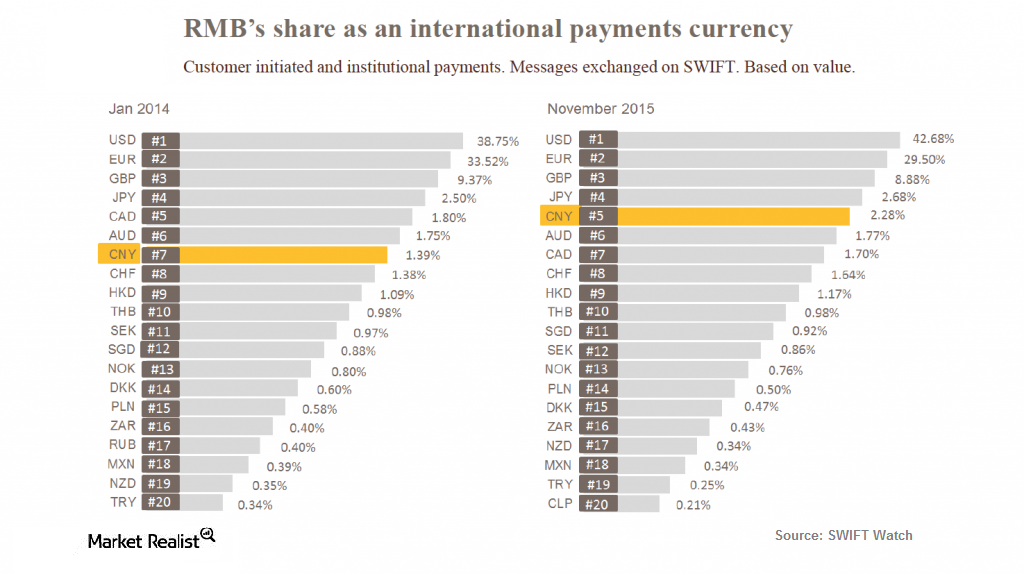 China's Yuan Share Rose in Global Currency Payments
Yuan's share rose
SWIFT is a global member-owned cooperative. It's the world's leading provider of secure financial messaging services.
According to the latest SWIFT RMB Tracker, the yuan—also known as the "renminbi"—accounted for 2.3% of the global payments in November 2015. It rose from 1.9% in October. The yuan was fifth. It was behind the yen. The Japanese yen accounted for 2.8% of global payment in November 2015. However, in August 2015, the yuan was fourth—its highest ranking. It overtook the yen.
In November 2015, the top three international payment currencies were the US dollar with a 42.7% share, the euro with a 29.5% share, and the pound with an 8.9% share, respectively.
Article continues below advertisement
UAE and Qatar drove the yuan's usage in 2015
According to SWIFT's RMB Tracker, the UAE (United Arab Emirates) and Qatar were the most active countries in the Middle East. They used the yuan for direct payments with mainland China and Hong Kong in 2015. The UAE's usage of the yuan for payments to mainland China and Hong Kong accounted for 74% of the payments by value in 2015—a rise of 52% compared to 2014. Meanwhile, Qatar accounted for 60% of all the payments—a rise of 247% compared to 2014. However, most of the payments were dominated in the US dollar between Middle Eastern countries and mainland China and Hong Kong.
According to Sido Bestani, the head of Middle East, Turkey, and Africa at SWIFT, "the use of the RMB has been rising across the Middle East region over the last few years. Adoption has been supported by developments such as the establishment of an RMB clearing centre in Qatar last year – the first in the Middle East – and the recent memorandum of co-operation signed between the People's Bank of China and the UAE Central Bank to set up RMB clearing arrangements in the UAE."
Impact on mutual funds
The rise in the usage of the yuan in international payments doesn't directly impact the performance of China-focused mutual funds like the AllianzGI China Equity Fund – Class A (ALQAX), the Eaton Vance Greater China Growth Fund (EVCGX), and the Shelton Greater China Fund (SGCFX). They invest in American depository receipts of Ctrip.com International (CTRP), 58.com (WUBA), Taiwan Semiconductor (TSM), CNOOC (CEO), and China Mobile (CHL).
However, it shows that the yuan is gaining importance in global markets for direct payments. This would benefit the entire country.
For more updates and analysis on mutual funds, please visit Market Realist's Mutual Funds page.