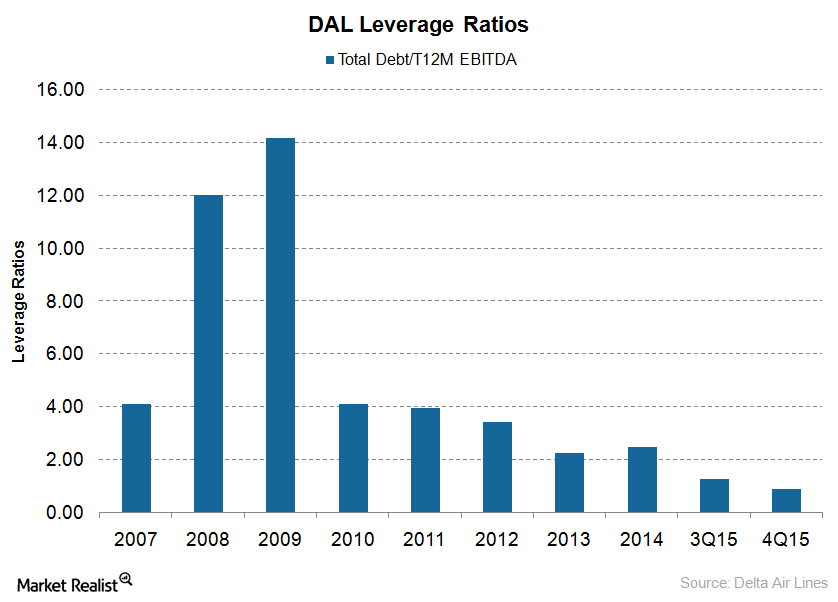 Can Delta Air Lines Continue to Reduce Its Debt in 2016?
DAL continues to reduce debt
In the fourth quarter of 2015, Delta Air Lines (DAL) generated $3.8 billion of free cash flow, helped by low fuel prices and other cost savings. The airline continues to reinvest in its business to sustain its long-term growth.
One of the prime cash deployment goals for DAL has been toward reducing its debt. The airline has already paid off more than $10 billion in the last decade. Its adjusted net debt declined by $600 million to stand at $6.7 billion at the end of December 2015.
Article continues below advertisement
The continuous debt reductions have helped the airline reduce its interest expense by $35 million during the quarter and by $170 million for the full year. Its total debt-to-EBITDA (earnings before interest, tax, depreciation, and amortization) ratio decreased from 2x in 1Q15 to 0.86x in 4Q15. Its net debt-to-EBITDA declined from 1.25x in 1Q15 to 0.51x in 4Q15.
For 3Q15, United Continental (UAL) has a net-debt-to-EBITDA ratio of 1x, Delta Air Lines (DAL) has a ratio of 0.7x, Spirit Airlines (SAVE) has a ratio of -0.4x, Alaska Air Group (ALK) has a ratio of -0.3x, and Southwest Airlines (LUV) has a ratio of -0.09x.
Goals
Delta Air Lines (DAL) expects to generate more than $7 billion–$8 billion of operating cash flow and ~$4 billion–$5 billion of free cash flow. It plans to reduce its adjusted net debt to $4 billion by 2020.
The airline also expects to gain an investment-grade rating based on its strong financial performance in recent years. DAL's strategy of reducing debt becomes more important as industry fundamentals have improved tremendously. Reduced leverage and interest costs should put Delta Air Lines in a better position to cope with an industry downturn.
The PowerShares Dynamic Leisure & Entertainment Portfolio ETF (PEJ) invests 5.4% of its portfolio in DAL