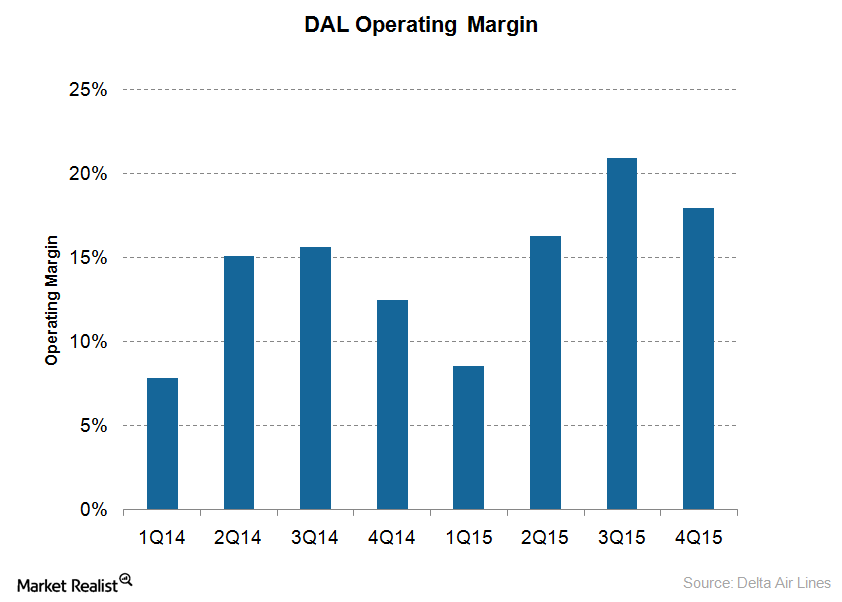 Can Delta Air Lines Continue to Reduce Its Costs in 2016?
Operational costs fall
For the fourth quarter of 2015, Delta Air Lines' (DAL) operating expenses declined by ~26% year-over-year (or YoY) as compared to 4Q14. For the full year 2015, operating expenses declined by 14% YoY. This helped in expanding its operating margins to 16.2%.
Article continues below advertisement
Fuel savings
Substantial fuel savings as a result of falling crude oil prices helped Delta Air Lines reduce its expenses. The airline's operating expenses fell from $10,475 million in 4Q14 to $7,785 million in 4Q15.
Delta's total fuel expenses for 4Q15 fell by over $700 million, despite the company losing $340 million in hedge losses, including early settlements. Its fuel price stood at $1.85 per gallon, down 30% from the previous year.
Cost controls and fleet improvement
On the other hand, DAL's nonoperating expenses also declined by $9 million in 4Q15 despite the $75 million loss from writing off its remaining Venezuelan currency exposure. The airline made modifications on about 205 planes in its fleet, which included 757s, A320s, A319s, and CRJ700s.
Article continues below advertisement
Improving utilization
Delta Air Lines' restrained capacity growth and targeted capacity cuts in international markets have helped it improve its capacity utilization. This, is turn, helps the airline's margin performance.
Outlook
For 1Q16, Delta Air Lines (DAL) expects to see its operating margins improve to 18%–20%, backed by solid cost savings and lower fuel prices. It also expects its fuel expense to be $1.5 billion lower year-over-year due to the significantly lower hedge losses. DAL also plans to retire the nine remaining Boeing (BA) 747s next year, thus improving fuel efficiency.
All these factors should help improve margins throughout 2016. However, investors should remember that the airline industry cycle is expected to have peaked. Also, it is only a matter of time before fuel prices rebound as important economic production starts falling. Such events should adversely impact margins.
The PowerShares Dynamic Leisure & Entertainment Portfolio ETF (PEJ) invests 5% of its holdings in DAL. It also invests 5% of its holdings in United Continental Holdings (UAL), 2.7% of its holdings in Alaska Air Group (ALK), 2.5% of its holdings in Allegiant Travel Company (ALGT), and 2.4% of its holdings in JetBlue Airways (JBLU).