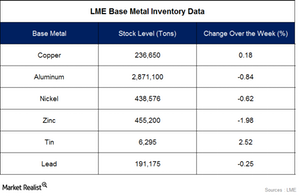 Base Metal Inventories Fell Last Week: How Much?
Base metals last week
In the week ended January 9, copper and tin inventories increased. Levels for other base metals fell. LME Zinc fell the most in terms of inventory levels with a fall of 2% from the previous week's level.
Article continues below advertisement
Copper inventory levels surged last week
The inventory levels for LME copper surged 0.2% to 236,650 tonnes in the week ended January 9 while copper prices fell. The peak inventory level for copper in 2015 was recorded at 371,250 tonnes on August 28. It has fallen 36.2% since then.
LME aluminum inventories are in a steep downtrend and have been since the beginning of 2015. They fell last week, and prices fell 1%. Aluminum inventories fell 0.8% to 2,871,100 tonnes. In 2015, they fell 31.2%.
Inventory levels of nickel and zinc fell
LME nickel inventories fell 0.6% last week and reached 438,576 tonnes. Prices fell 3%. Nickel inventories in LME reached a yearly low of 393,228 on December 9 and rose 11.5% from that low.
LME zinc inventories fell 2% and reached 455,200 tonnes. The peak zinc inventory level is 617,325 tonnes as of September 15. It's dropped 26.3% since then.
Tin inventories increased 2.5% and reached 6,295 tonnes last week. LME tin fell 49% in 2015.
Lead inventories fell 0.24% and reached 191,650 tonnes.
The equities of base metal miners Alcoa (AA), Freeport-McMoRan (FCX), Glencore (GLNCY), Rio Tinto (RIO) fell last week. The SPDR S&P Metals & Mining ETF (XME) fell 7.4%.