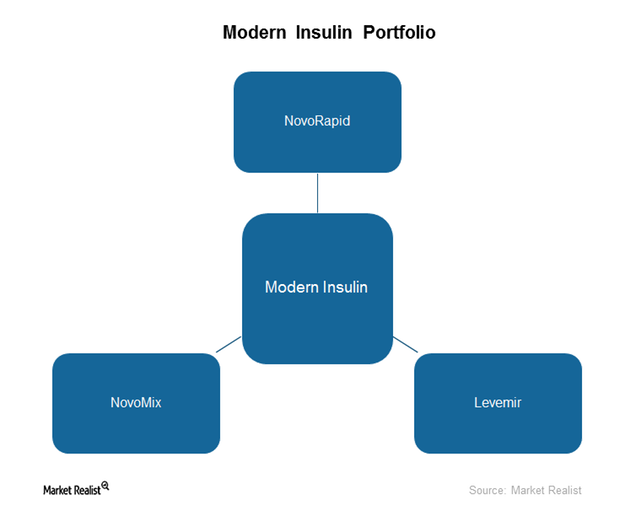 Analyzing Novo Nordisk's Next Generation Insulin Portfolio
By Jillian Dabney

Jan. 18 2016, Updated 2:08 p.m. ET
Is modern insulin a growth driver for Novo Nordisk?
Novo Nordisk's (NVO) diabetic and obesity drug portfolio includes next generation insulin, modern insulin, human insulin, Victoza, and other diabetes and obesity care products. Victoza is part of glucagon-like peptide-1 (or GLP-1) market. For more information on Victoza, please visit Novo Nordisk's Victoza Maintains Leadership in GLP-1 Market.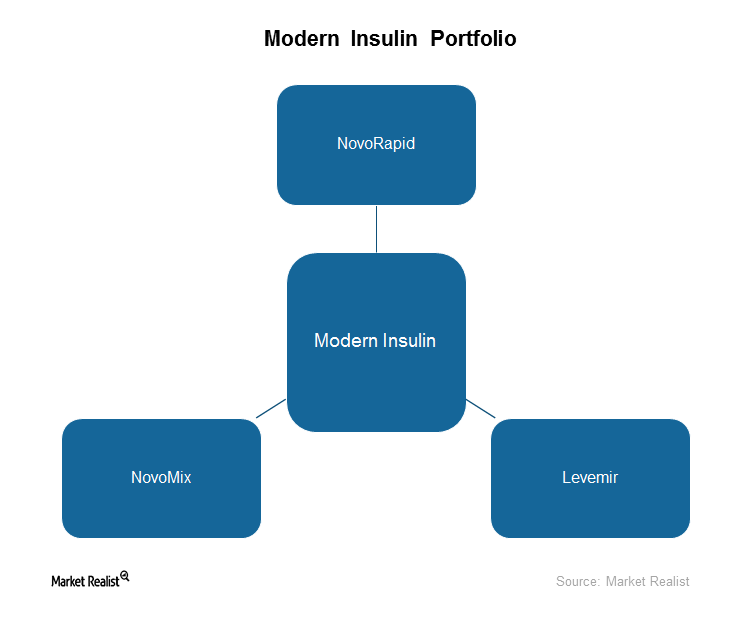 The graph above depicts components of the company's modern insulin portfolio. Modern insulin contributed ~46.7% to total revenue during 3Q15.
Article continues below advertisement
Levemir is the major sales growth driver for Novo Nordisk in the modern insulin portfolio. Levemir is performing well in the US market. However, recently the product faced competition from glargine U300 or Toujeo. Toujeo, a Sanofi (SNY) product, is a long-acting insulin, the same type of basal insulin as Lantus. With more focus on Tresiba, the company estimates lower growth levels for Levemir in the US in the coming period.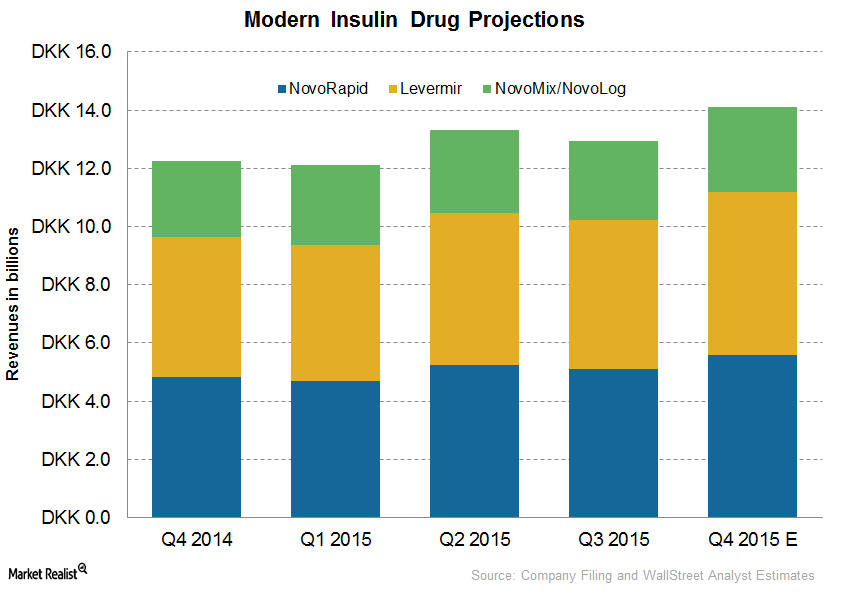 The graph above shows Wall Street analyst projections about Novo Nordisk's modern insulin portfolio for 4Q15. During 4Q15, the modern insulin drugs are estimated to contribute 13.3 billion Danish krones to the company's top line.
Must-watch for investors: Tresiba and Xultophy
During September 2015, the company received approval for Tresiba in the US. The drug has already launched in 36 countries. Novo is focusing on the strong launch of the drug in the US. Xultophy is a combination of Tresiba and Victoza. The drug is expected to become a blockbuster drug for Novo Nordisk. Xultophy has been approved in Europe while it awaits approval from the US Food and Drug Administration (or FDA). Delayed approval for Tresiba resulted in late NDA filing for the drug with the US FDA.
With the continuous launch of innovative next generation insulin products, manufacturers may have to fight harder for market share. This price war among major players such as Eli Lilly (LLY), Sanofi (SNY), and Merck & Co (MRK) might result in pricing pressure for individual products.
To diversify the risk of investing directly in Novo Nordisk, investors can look at options such as the PowerShares International Dividend Achievers Portfolio (PID). PID holds 0.52% of its total holdings in Novo Nordisk's equity.