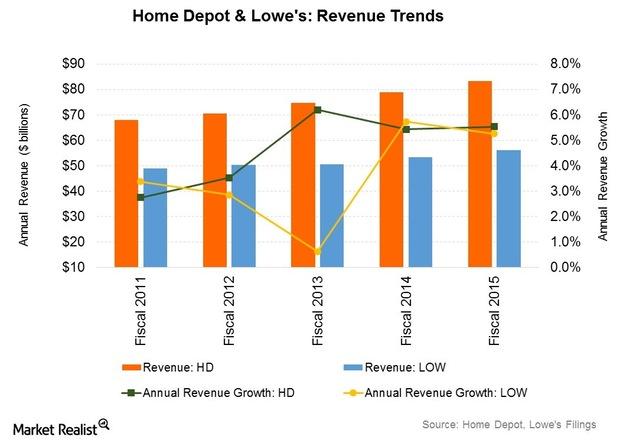 Lowe's Retail and Pro Customers: Who Accounts for More Sales?
Lowe's retail customers
Lowe's (LOW) serves about 16 million customers (XLY) each week. The company clocked 857 million transactions in fiscal 2015 at 1,840 stores. Lowe's (LOW) categorizes its customers into two varieties:
the retail customer, who's looking for products and services for a home improvement (XHB) project, either in an owned or rented residence
the professional (or pro) customer, who's looking for products to complete projects for other customers like interior designers and building contractors
Article continues below advertisement
Lowe's retail customer base
The retail customer accounts for about 70% of Lowe's sales. However, retail customers account for about two-thirds of Home Depot's (HD) customer base. There are two types of retail customers:
the DIY (do-it-yourself) customer
the DIFM (do-it-for-me) customer
As the names suggest, DIY customers shop for products and supplies to complete home projects by themselves while DIFM customers look for both products as well as additional support services from Lowe's, which could include part or all of the installation process.
Spending trends
Most retail customers tend to have a lower ticket size compared to pros. Their spending patterns are also relatively more sporadic compared to pros. However, bigger jobs and spending on appliances can spike ticket sizes.
Retail customers account for about 60% of big-ticket transactions at Lowe's. The ticket value for these transactions is in excess of $500[1. Based on comments by Robert A. Niblock, chair and CEO of Lowe's].
Article continues below advertisement
Value-added services
Lowe's also provides consultation on projects via its project specialists program available to both retail and pro customers. These specialists provide advice to customers on-site for both interior projects like kitchens and bathrooms, as well as exterior projects like roofing and windows.
The average ticket size for Lowe's interiors program is in excess of $10,000. The Project Specialist Exteriors program is available in all US stores while Lowe's has planned to include the interiors program in at least three-fourths of US stores by the end of fiscal 2016[2. Based on comments by Rick D. Damron, chief operating officer of Lowe's].
Firms such as Restoration Hardware (RH) are also increasingly providing value-added services like direct sales to customers who purchase furniture for their homes with the assistance of their interior designers. RH also makes direct sales to professional interior designers who purchase merchandise for their own firm accounts.