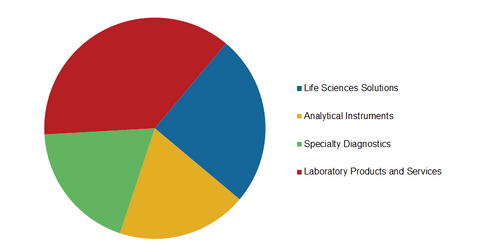 An Overview of Thermo Fisher Scientific's Business Model
By Sarah Collins

Updated
Thermo Fisher Scientific's business model
Thermo Fisher Scientific (TMO) has made a number of acquisitions over the years, resulting in the expansion of the company's product portfolio with the inclusion of a number of premium brands. These brands are Thermo Scientific, Applied Biosystems, Invitrogen, Fisher Scientific, and Unity Lab Services, which together constitute the four business segments the company operates under:
Analytical Instruments
Life Sciences Solutions
Laboratory Products and Services
Specialty Diagnostics
The chart below illustrates the revenue allocation of each business segment.
Article continues below advertisement
Laboratory Products and Services
The Laboratory Products and Services segment provides a broad and comprehensive portfolio of the products and services required in laboratories. The largest segment of Thermo Fisher, it accounted for 37% of the company's total revenues in 2014.
This segment reported a revenue growth rate of 49%, which is the highest among all the other business segments of the company.
Life Sciences Solutions
The Life Sciences Solutions segment consists of the portfolio of reagents, instruments, and consumables. This is mostly composed of nondurable disposable supplies and items used for therapeutic purposes, such as disposable gloves, surgical masks, needles, and syringes that are used for research, new drug discovery, and production and diagnostic purposes.
The segment was established in 2014 with the acquisition of Life Technologies and consists of the former Life Technologies business and the Thermo Fisher Biosciences business. In the same year, it accounted for 25% of the total revenues of the company.
Article continues below advertisement
Analytical Instruments
The Analytical Instruments segment provides products and services for complex analytical applications in a variety of set-ups, including laboratories, production lines, and the field. Analytical instruments are marketed under the Thermo Scientific brand and accounted for ~17% of the company's total revenues in 2014.
Some of the leading product divisions of this segment include chromatography and mass spectrometry, chemical analysis instruments, and environmental instruments.
Specialty Diagnostics
The Specialty Diagnostics segment provides diagnostic test kits, instruments, reagents, and other products that help improve patient care by providing faster and more accurate diagnosis. The Specialty Diagnostics segment products generated 19% of Thermo Fisher Scientific's revenues.
Thermo Fisher Scientific's major competitors are Agilent Technologies (A), Quest Diagnostics (DGX), and Waters Corporation (WAT). Investors seeking focused exposure to Thermo Fisher Scientific can invest in the iShares US Medical Devices ETF (IHI). The company accounts for ~9.2% of IHI's total holdings.