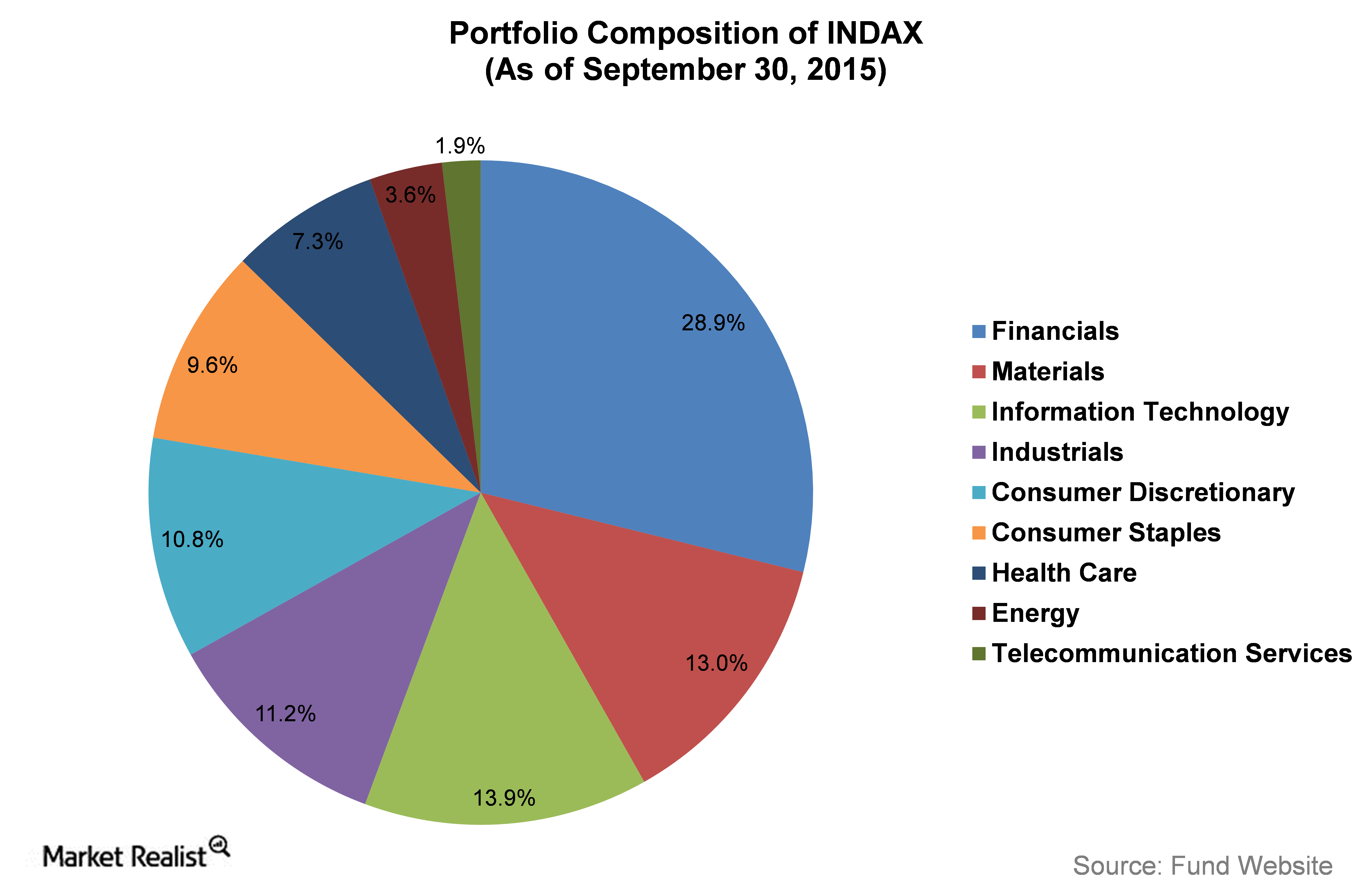 The ALPS Kotak India Growth Fund (INDAX) Portfolio Analysis
The portfolio composition of INDAX
The ALPS Kotak India Growth Fund (INDAX) invests in large-cap blue-chip companies and seeks to achieve long-term capital appreciation. It also has some exposure to mid-cap and small-cap stocks. It intends to invest at least 80% of its net assets directly or indirectly in equity and equity linked securities of Indian companies.
INDAX's investment methodology is a combination of the top-down and bottom-up approach. The fund is benchmarked against the MSCI India Index and the CNX 500 Index.
According to the latest complete portfolio information as of September 2015, the financial sector was the largest holding with a 31.1% weight. The chart above shows the sectoral composition of the portfolio.
Article continues below advertisement
Portfolio composition compared with the benchmark 
In the chart above, we have taken a comparative look at the portfolio composition of the fund with that of the benchmark MSCI India Index. Although financials comprise the biggest chunk of the INDAX, the benchmark has information technology as its biggest sector. There is a variation in the composition of other sectors too.
As of September 2015, the fund was invested into 59 holdings. The top ten holdings formed 37.9% of the portfolio. The top holdings included blue-chip stocks such as Infosys (INFY), HDFC Bank (HDB), Axis Bank, Tata Consultancy Services, ICICI Bank (IBN), and ITC Ltd (ITC).
As of September 2015, INFY was the top individual holding of INDAX, forming 5.7% of the portfolio. The top ten holdings of the fund matched closely with that of the MSCI India Index and the CNX 500 Index.
In the next article, we will analyze the performance of INDAX.