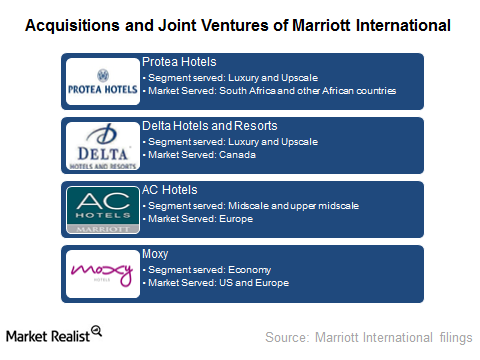 Acquisitions and Joint Ventures Drive Marriott's International Expansions
Marriott International keeps acquiring and creating
Marriott International (MAR) has been able to expand its international business by both acquiring and creating brands that enable it to enter new markets and market segments. Since 2009, Marriott has added the following six new brands to its portfolio:
Autograph
AC Hotels
Gaylord
Moxy
Protea
Delta
Article continues below advertisement
Sizing up Marriott's biggest acquisitions
Marriott became the largest hotel company in Africa with the acquisition of the 116-hotel Protea Hospitality Group based in South Africa in April 2014 for $200 million. This enabled Marriott to double its presence in the MEA (the Middle East and Africa) market and to become the second-largest company in the industry by number of rooms. Hilton Worldwide Holdings (HLT) ranks first in the MEA region, followed by Marriott (MAR), Starwood Hotels & Resorts Worldwide (HOT), and InterContinental Hotels Group (IHG). This is an important move for Marriott since Africa has ten of the world's fastest-growing economies.
Marriott completed its acquisition of Delta Hotels and Resorts on April 1, 2015, for $135 million. Delta was a leading hospitality group in Canada, operating 37 properties and about 10,000 rooms. With this acquisition, Marriott became the largest full-service hotel operator in Canada, with 120 hotels and 27,000 rooms.
Article continues below advertisement
Marriott's historic joint ventures
In 2011, Marriott increased its presence in Europe by forming a joint venture with Spanish hospitality group AC Hotels in 2011. The joint venture operates 77 properties and 9,500 rooms, mostly located in Spain, Italy, France, and Portugal. Marriott has also collaborated with Vastint, a subsidiary of IKEA Group, in 2013 to develop its new brand of Moxy hotels. Moxy hotels target young customers with affordable prices in major tourist destinations.
These initiatives will widen the presence of Marriott across luxury, upper-upscale, upscale, and midscale segments as well as different regions including Europe and Africa. Investors can gain exposure to the lodging sector by investing in the PowerShares DWA Momentum Portfolio (PDP), which has about 7.4% of its total holdings in the lodging sector.
Now let's take a closer look at the outlook for Marriott International's Starwood acquisition.