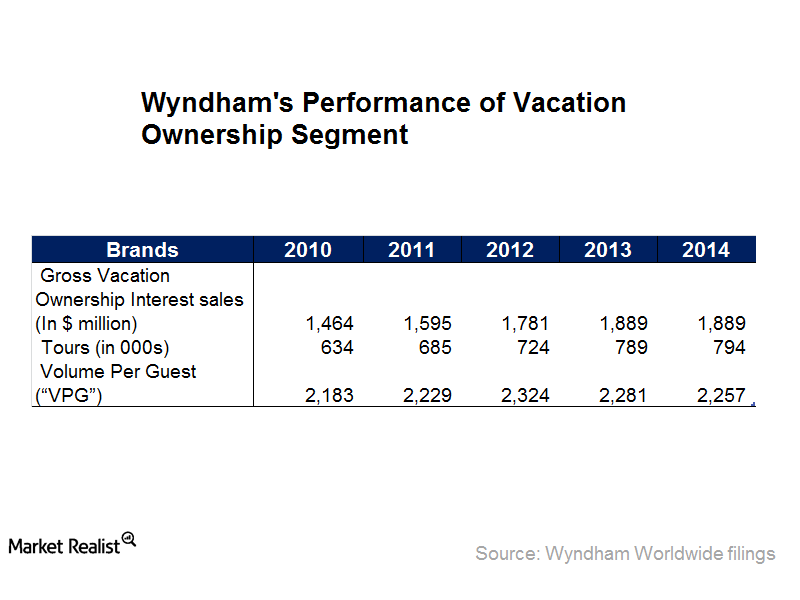 What's Driving the Revenues of Wyndham Worldwide's Vacation Ownership Segment?
What drives the sales of timeshare units
Vacation unit sales largely depend on disposable income available to customers, and a stable US economy and growing household incomes tend to have positive impacts on VOI (vacation ownership interest) sales. A company's business segment recognizes revenues based on a percentage of completion, which is calculated by determining the costs incurred on a project from total estimated costs.
Wyndham Worldwide's (WYN) Vacation Ownership segment revenues can be analyzed using key metrics such as gross VOI sales, tours, and volume per guest.
Article continues below advertisement
Vacation Ownership's tours
Let's look first at the number of tours arranged by Wyndham in order to promote its vacation ownership units to potential customers. Revenue growth directly depends on such tours, and the company markets this VOI by using marketing alliances with other gaming, travel, retail, and entertainment companies. The company offers gaming chips, show tickets, and dining certificates to solicit visitors to tour their property and attend on-site presentations.
Despite large increases in marketing expenses on tours in 2014, Wyndham tours saw a flat growth rate of 0.6% in 2014 over 2013.
Volume per guest
This calculation represents the average revenue earned from VOI sales per tour. It reflects the company's ability to convert visits or tours into sales. In 2014, the growth rate in volume per guest declined by 1%, reaching $2,257. The volume per guest has declined over past two years despite the favorable macroeconomic environment.
Gross VOI sales and related ETFs
In 2014, the Wyndham Worldwide saw flat growth in VOI sales due to low growth in tours organized as well as flat growth in the volume per guest achieved by the company.
Investors can gain exposure to the hotel sector by investing in the iShares Russell 1000 Growth (IWF), which invests approximately 3% of its total portfolio in the hotel sector, including 0.09% in Wyndham Worldwide (WYN), 0.14% in Marriott International (MAR), 0.12% in Hilton Worldwide Holdings (HLT), and 0.12% in Starwood Hotels & Resorts Worldwide (HOT).
Keep reading for an analysis of Wyndham Worldwide's total revenues.