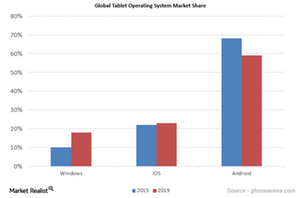 Will Microsoft Outperform Its Peer Group in the Tablet Market?
By Parker Thomas

Dec. 4 2020, Updated 10:52 a.m. ET
Microsoft grew by 58% in the tablet business
The growing demand for large-screen smartphones (phablets) has resulted in sluggish PC revenue growth as well as sluggish growth for other handheld devices. However, according to a report from market research firm Strategy Analytics, Microsoft will have around 18% of the market share in tablets by the end of 2019. Strategy Analytics reported a 58% increase in Windows-based tablets for the first nine months of 2015 compared to the same period in 2014.
Article continues below advertisement
The reason behind Microsoft's growth in the tablet market could be its strong hold in operating systems. The company achieved steady growth in the tablet market with the launch of Windows 8 in 2012. Microsoft tablets' compatibility with Windows applications allows them to be a substitute for a personal computer.
Microsoft constitutes 10% of tablet sales
Moreover, analysts estimate that the number of Windows-based tablets will reach 22 million by the end of 2015 and will constitute around 10% of the total tablet sales during 2015. Researchers believe that the market for Windows tablets will continue to grow, as enterprises are embracing tablets. Since Microsoft is the leading enterprise in developing operating systems for desktop computers and servers, it can retain its existing customers and bring in new customers with new versions of its operating systems.
Eric Smith, senior analyst for Tablet & Touchscreen Strategies, said, "Power, graphics, and functionality aside, Windows 10 provides a stable base from which the ecosystem can grow and we are entering a world where Windows tablets take significant market share from Android tablets on the low end and compete head-to-head with iPad in the high and premium segments."
The iShares U.S. Technology ETF (IYW) is a portfolio of 150 stocks. The top four stocks, Apple (AAPL), Microsoft (MSFT), Facebook (FB), and Alphabet (GOOG), constitute 18.0%, 11.6%, 6.7%, and 6.0%, respectively.