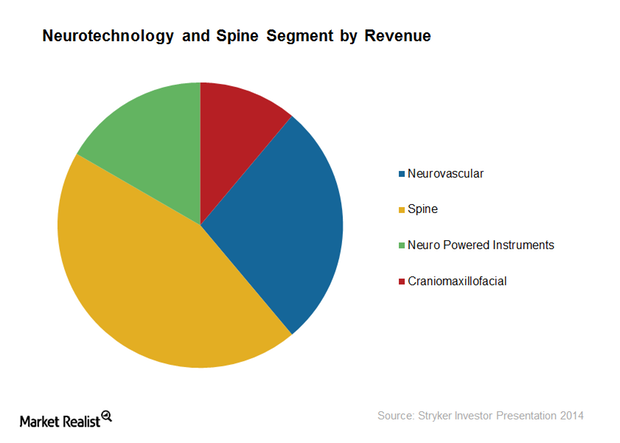 Understanding Stryker's Neurotechnology and Spine Segment
By Sarah Collins

Dec. 30 2015, Updated 3:06 p.m. ET
A brief overview of Stryker's Neurotechnology and Spine segment
Stryker Corporation's (SYK) Neurotechnology and Spine segment reported an increase of 5% in net sales in 2014. This growth was driven primarily by increased demand in neurotechnology products. Stryker is the leading company in neurovascular products and among top players in the other divisions of the segment. But although it's one of the five market leaders in spine products market, Stryker has a market share of only 8%, and thus the spine segment provides potential growth opportunities to the company.
Article continues below advertisement
Key growth drivers for Stryker's Neurotechnology and Spine segment
In 2012, Stryker received 510(k) clearance for the products used in the treatment of ischemic stroke, which are strokes that occur due to the blockage of blood vessels carrying blood to the brain. Advancement and expansion in this product segment is expected to drive significant growth in the Neurotechnology side of Stryker's Neurotechnology and Spine segment.
The Spine side of Stryker's Neurotechnology and Spine segment also provides immense growth opportunity to the company with the focus on premium products segment to generate growth and increase market share. Additionally, specialized sales representatives and R&D (research and development) capabilities are crucial factors that will impact the segment growth.
Neurotechnology and Spine segment's key products
Products used for the treatment of ischemic stroke are among the leading medical devices in Stryker's Neurotechnology and Spine segment, as we discuss above. These products include the Trevo Pro Retriever, a clot removal technology, and the Trevo ProVEUTM Retriever, a first clot removal device visible during the surgery to help precisely position the device.
Sonopet, a system that provides soft tissue dissection capabilities in close proximity with precise control, is a leading product of Stryker as well. Since its acquisition in 2010, Sonopet has grown at a compounded annual growth rate of 78% till 2014 driven by the strong sales force and incremental innovations.
Major competitors
Some of Stryker's major competitors in its Neurotechnology and Spine segment include Medtronic (MDT), Johnson & Johnson (JNJ), and NuVasive (NUVA). Investors seeking exposure to Stryker with a low-risk profile can invest in the iShares MSCI USA Minimum Volatility ETF (USMV), a major ETF that tracks an index that has exposure to US equities with low volatility.
Now let's look at Stryker from a geographical standpoint.