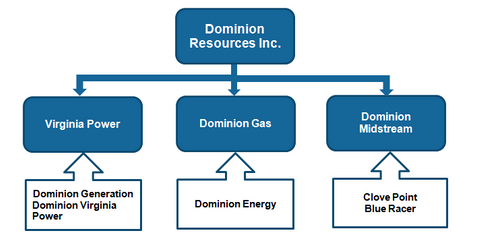 Understanding Dominion Resources' Corporate Structure
By Vineet Kulkarni

Updated
Operating structure
Dominion Resources (D) engages in all stages of the energy value chain, including power generation, transmission, and distribution. Dominion operates through its subsidiaries and caters to 5 million customers in 12 states. It operates day to day through its main subsidiaries: Virginia Power and Dominion Gas.
Article continues below advertisement
Virginia Power
Virginia Power, headquartered in Richmond, Virginia, is a wholly owned subsidiary of Dominion Resources. It's a regulated public utility that generates, transmits, and distributes electricity for sale in Virginia and North Carolina. Virginia Power manages its routine operations through operating segments Dominion Generation and Dominion Virginia Power.
Dominion Generation primarily looks after utility power and merchant power production along with retail energy marketing. It operates a power generation fleet that serves power to its electric utility franchises. It also operates a small merchant power fleet that supplies electricity in the wholesale markets. Combined, the fleets account for 25,000 megawatts of power generation capacity.
Dominion Virginia Power operates regulated electric transmission and distribution franchises. It primarily caters electric services to nearly 2.5 million customers in Virginia and North Carolina.
Dominion Gas
Dominion Energy is the main operating segment of Dominion Gas. Dominion Energy mainly takes care of the transmission, distribution, and storage of natural gas. It operates one of the nation's largest natural gas (UNG) storage systems and serves 1.3 million customers in Ohio and West Virginia. It also operates a network of 12,000 miles of natural gas transmission pipeline and has an economic interest in the Atlantic Coast Pipeline partnership.
The Atlantic Coast Pipeline is a 550-mile-long natural gas interstate pipeline that will cater to multiple utilities in Virginia and North Carolina. The natural gas transported by this pipeline will be used for heating homes and generating electricity.
Article continues below advertisement
The pipeline has the capacity to transport 1.5 billion cubic feet of gas per day. Dominion Resources holds a majority 45% of ownership in this joint venture. Duke Energy (DUK) holds 40%, while Piedmont Natural Gas (PNY) and AGL Resources (GAS) account for 10% and 5% of ownership interests, respectively.
Dominion Midstream
Dominion Midstream is a partnership formed by Dominion Resources to own, operate, and develop natural gas import, storage, and transportation. You can read more about Dominion Resources in the last part of this series.