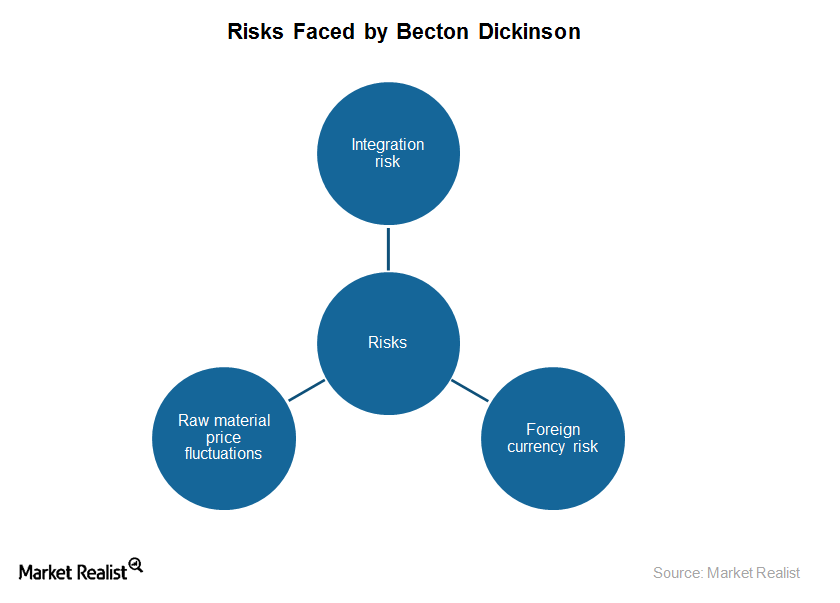 Risks Faced by Becton, Dickinson and Company
By Sarah Collins

Dec. 16 2015, Updated 10:05 a.m. ET
Key risks
The medical device industry in the United States is a highly competitive industry. It presents a number of risks, such as pricing pressures, reimbursement risks, healthcare consolidation, and tax burdens. As it is susceptible to these industry risks, Becton, Dickinson and Company (BDX), or BD, is transforming its business model. In addition to industry risks, BD faces company-specific risks, such as raw material price fluctuations, foreign currency risks, and integration risks.
Article continues below advertisement
Integration risk
BD acquired CareFusion on March 17, 2015, in a cash-and-stock deal. CareFusion has a broad portfolio of products and extensive geographic reach. BD faces the massive challenge of integrating two medical device companies. Though the company has achieved substantial synergies as of fiscal 4Q15, and is expected to achieve even higher cost synergies by 2018, significant integration risks still exist.
Raw material price fluctuations
Resins, which are oil-based, are a major component used in the manufacturing of medical devices. Resin purchase costs are significantly impacted by increasing world oil prices, which could affect future operating results. The company employs various measures, such as purchasing commodity derivative contracts, to manage these risks. In April 2015, in order to hedge approximately 13% of its global resin purchase volumes in 2015 and 2016, BD entered into cash-settled forward contracts.
Foreign currency risk
More than 50% of BD's total revenues are derived from international operations. Fluctuation in currency exchange rates affects the company's revenues significantly. Also, a potential decrease in demand due to the strong dollar poses a significant risk to the company's business.
Medtronic (MDT), Stryker (SYK), and Johnson & Johnson (JNJ) are some of the other big players in the medical device industry. They are also susceptible to integration risk due to a large number of mergers and acquisition deals. Investors seeking diversified exposure to BD can invest in the First Trust Health Care AlphaDEX ETF (FXH). The company accounts for around 1.5% of FXH's total holdings.