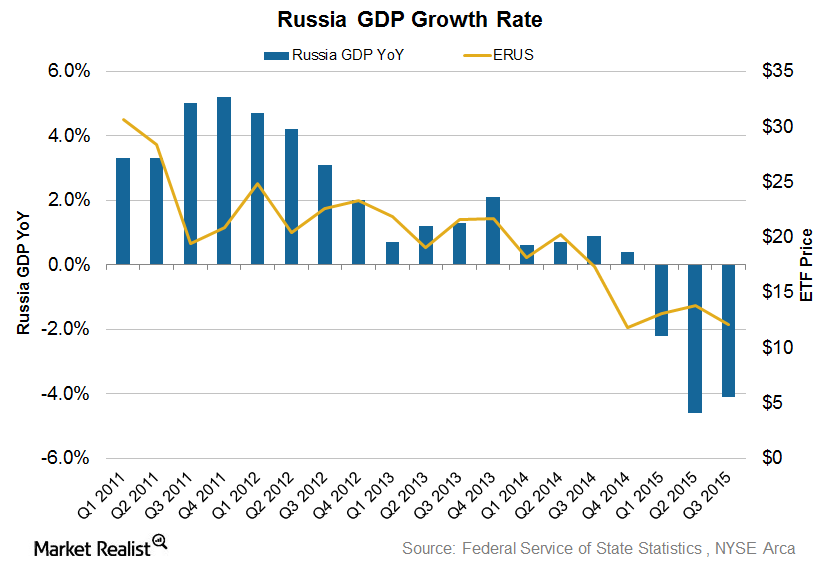 How Rising Inflation Is Affecting the Russian Economy
Russian GDP fell 4.1% in the September quarter
Like Brazil (EWZ), Russia (RUSL) (ERUS) is also struggling with high inflationary pressure. For the September quarter, Russian GDP (gross domestic product) fell 0.57% as compared to a decline of 1.3% in the previous quarter. On an annual basis, the Russian economy fell 4.1% as against a decrease of 4.6% recorded in the earlier quarter. The decline in GDP is mainly attributed to a decrease in manufacturing, construction, and real estate activity.
Article continues below advertisement
Article continues below advertisement
Trade surplus narrowed in October
In October 2015, Russia's trade surplus narrowed further to $10.2 billion as compared to $14.7 billion in October 2014. The trade surplus declined as imports fell 36.0% to $17.2 billion and exports fell 34.0% to $27.2 billion on an annual basis in October. With declining exports, industrial output also remained lower.
Industrial production jumps 3.5% from a year ago
Industrial production in Russia fell 3.5% year-over-year (or YoY) in November 2015 as compared to a 3.6% decline in the previous month. Industrial production fell in November with a decrease in manufacturing activity by 5.3%. On a monthly basis, industrial production in Russia fell 0.2% in November from October 2015.
Companies such as Mechel OAO (MTL), LUKOIL (LUKOY), Tatneft (OAOFY), and Gazprom (OGZPY) fell 14.4%, 0.81%, 0.77%, and 0.95%, respectively, as of December 21.
Article continues below advertisement
Consumer prices in Russia rose by 15.0% year-over-year in November with a rise in clothing and footwear prices, whereas the cost of food, housing, and transportation rose at a slower pace. Depreciation of the ruble against major currencies resulted in an increase in cost inflation. With both input and output prices rising, inflation remains at high levels.
With declining manufacturing activity and rising inflation, consumer confidence fell in Russia. The consumer confidence index decreased to -24 in 3Q15 from -23 in 2Q15.
Also, retail sales in Russia fell 13.1% on an annual basis in November as food sales fell 11.5% and non-food fell 14.6%. On a monthly basis, sales fell 1.5%.
In order to tame inflation, the Bank of Russia has kept the benchmark one-week repo rate unchanged at 11.0% at its December 11, 2015, meeting. However, policymakers have signaled a rate cut if inflation eases in line with forecasts.
While Russia is struggling with structural problems such as declining manufacturing and high inflation, the European Union's extension of sanctions against Russia for another six months may worsen the problem further. However, it remains to be seen with all these limitations whether Russia achieves economic growth of 0.7% in 2016.
Let's take a look at the Indian economy in the next article to understand how policy logjam is hampering economic growth.