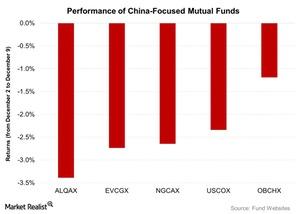 SSE Composite Index Falls despite China's New IPO System
Shanghai Stock Exchange (SSE) Composite Index fell
The SSE Composite Index fell by 1.8% from December 2 to December 9 and closed at 3,472.44 on December 9, 2015. The index fell even after the China Securities Regulatory Commission (CSRC) announced that it would implement a new registration-based initial public offering, or IPO, system in two years. Under this new system, the Shanghai and Shenzhen stock exchanges, rather than the securities regulator, will approve IPO listings.
Article continues below advertisement

The SSE Composite Index includes all listed stocks (A shares and B shares) on the Shanghai and Shenzhen stock exchanges. A shares are shares denominated in domestic currency (renminbi) and are available only to local investors. On the other hand, B shares are shares denominated in foreign currency, such as the US dollar on the Shanghai Stock Exchange and the Hong Kong dollar on the Shenzhen Stock Exchange, and are available to foreign investors.
New registration-based IPO system
The new system will not only simplify but also speed up the process of new share listings on stock exchanges. This is also a step toward liberalization of tightly controlled financial markets. However, it is argued that several companies may rush to the stock market for funds, as markets—instead of regulators—will decide which companies will get listed. The markets may also decide the pricing of the IPOs.
Meanwhile, the new registration system will improve transparency in the Chinese capital market, which is essential to reinforce investors' trust in its financial markets after the meltdown of the Chinese equity market in June and August.
In October, the CSRC's vice chairman, Yao Gang, often described as IPO king, was investigated for suspected corruption. On December 9, the Chinese central government announced it had removed him from the vice chairman position.
Returns of China-focused mutual funds
From December 2 to December 9, the AllianzGI China Equity Fund Class A (ALQAX) turned out to be the worst performer, falling 3.4%.
The Eaton Vance Greater China Growth Fund Class A (EVCGX), the Columbia Greater China Fund Class A (NGCAX), and the US Global Investors China Region Fund Investor Class (USCOX) fell by 2.7%, 2.6%, and 2.3%, respectively. The Oberweis China Opportunities Fund (OBCHX) fell by 1.2% during the same period.
With the fall in oil prices, the American Depository Receipts, or ADRs, of Chinese energy companies CNOOC (CEO), Sinopec Corporation (SNP), and PetroChina (PTR) fell by 2.6%, 6.0%, and 6.6%, respectively, from December 2 to December 9.
For the same period, the ADR of Chinese tech giant Alibaba Group Holding (BABA) fell by 1.9%, while the ADRs of Youku Tudou (YOKU) and 58.com (WUBA) rose by 0.4% and 2.3%, respectively.
In the next article in this series, we'll look at how some large hedge fund managers view the Chinese currency.