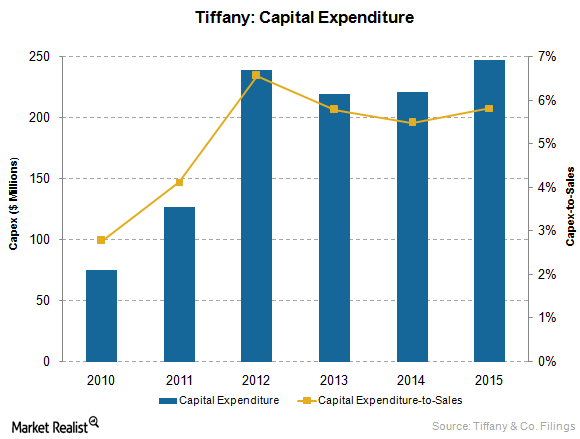 An Overview of Tiffany's Capital Allocations
By Diana Key

Dec. 22 2015, Updated 11:04 a.m. ET
How Tiffany budgets its capital expenditure
Tiffany & Co.'s (TIF) capital expenditure has seen fluctuations, with low capex during the 2009 recession. Between fiscal 2013 and fiscal 2015, capex has grown at a CAGR (compounded annual growth rate) of 4.1%, reaching $247.4 million in fiscal 2015, ended January 31, 2015.
In fiscal 2015, Tiffany increased its capex by 11.7% YoY (year-over-year), reflecting incremental spending for information technology systems and internal manufacturing capacity.
Tiffany's capex was 5.8% of its sales in fiscal 2015. Signet Jewelers (SIG), Fossil (FOSL), and Pandora, Tiffany's biggest competitors in the industry (XRT), had capex-to-sales ratios of 3.8%, 2.7%, and 2.4%, respectively. Thus, Tiffany had the highest capex-to-sales ratio.
Tiffany, Signet Jewelers, and Fossil all have exposure in the iShares Russell 1000 Growth ETF (IWF) and the iShares Core S&P 500 ETF (IVV). Together, these companies make up 0.12% of the portfolio holdings of IWF and 0.19% of the holdings of IVV.
IVV measures the performance of the large-capitalization sector of the US equities market, tracking the top 500 stocks. IWF is a growth-oriented ETF.
Article continues below advertisement
Tiffany's capital allocations
At Tiffany, approximately 50% of capital is used for the opening, renovation, and relocation of stores. The remaining capital is used for distribution and manufacturing facilities and ongoing investments in information technology.
In fiscal 2013, 2014, and 2015, capex represented 5.8%, 5.5%, and 5.8% of total Tiffany & Co. sales, respectively.
Free cash flow
Tiffany's FCF (free cash flow) in fiscal 2015 was $367.7 million, compared to -$66.8 million and $108.8 million in fiscal 2014 and fiscal 2013, respectively.
Capital productivity
Tiffany's ROCE (return on common equity) was 17.4% in fiscal 2015, compared to the 6.8% and 16.8% it saw in fiscal 2014 and fiscal 2013, respectively.
Tiffany's ROIC (return on invested capital) was 15.5% in fiscal 2015, compared to Signet's and Fossil's ROICs of 10.9% and 23.3%, respectively.