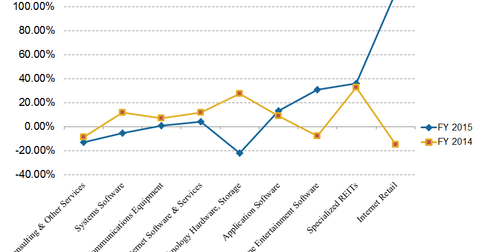 An Overview of Subsector Performance in SKYY for 2015
By Adam Rogers

Updated
First Trust ISE Cloud Computing
The First Trust ISE Cloud Computing ETF (SKYY) was one of the outperforming technology ETFs (or exchange traded funds) as it managed to gain 6.6% from January 2015 to December 28, 2015. The following graph presents the subsector comparison of SKYY in 2015 and 2014.
Article continues below advertisement
Internet retail soared while IT consulting sector fell
In 2015, the internet retail sector led the way for SKYY by generating staggering returns of approximately 120% in 2015 compared to -14.7% in 2014. Amazon (AMZN) and Netflix rallied over 100% in 2015. Specialized REITs (real estate investment trusts) and the home entertainment software sectors provided YTD (year-to-date) returns of 36.1% and 30.8%, respectively, while the application software and internet services sector generated returns of 13.2% and 4.4%, respectively. Additionally, the stocks in the Technology, Hardware & Storage subsector generated average YTD returns of -26% compared to 27.4% in 2014.
The communications equipment, systems software, and IT (information technology) consulting sectors in SKYY performed poorly, with YTD returns of 0.94%, -5.1%, and -13%, respectively. They generated returns of 7.2%, 11.9%, and -8.5%, respectively, in 2014.
Choppy trading since 2Q15
Since the 2Q15 earnings season, the technology sector has seen choppy stock trading. ETFs have also seen a fall in prices. Other macroeconomic factors have affected technology stocks. The Greek debt crisis, the fall in the Chinese stock market, and global growth issues all made cyclical technology stocks not so attractive to investors and analysts.
The next article will focus on the YTD performance of stocks in the application software sector. These stocks are a part of SKYY and include Salesforce (CRM), Adobe (ADBE), Intuit (INTU), and SAP (SAP).