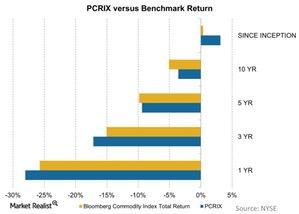 An Overview of PCRIX's Investment Methodology
By Ivan Kading

Nov. 20 2020, Updated 5:10 p.m. ET
PCRIX's investment methodology
The PIMCO Commodity Real Return Strategy Fund (PCRIX) is an alternative mutual fund that invests in derivatives of commodities products and fixed income markets to gain profit in the market.
PCRIX's management team looks to add value by avoiding the inefficiencies of passive commodity indexing, seeking out additional excess return opportunities within commodity markets, and actively managing the collateral portfolio.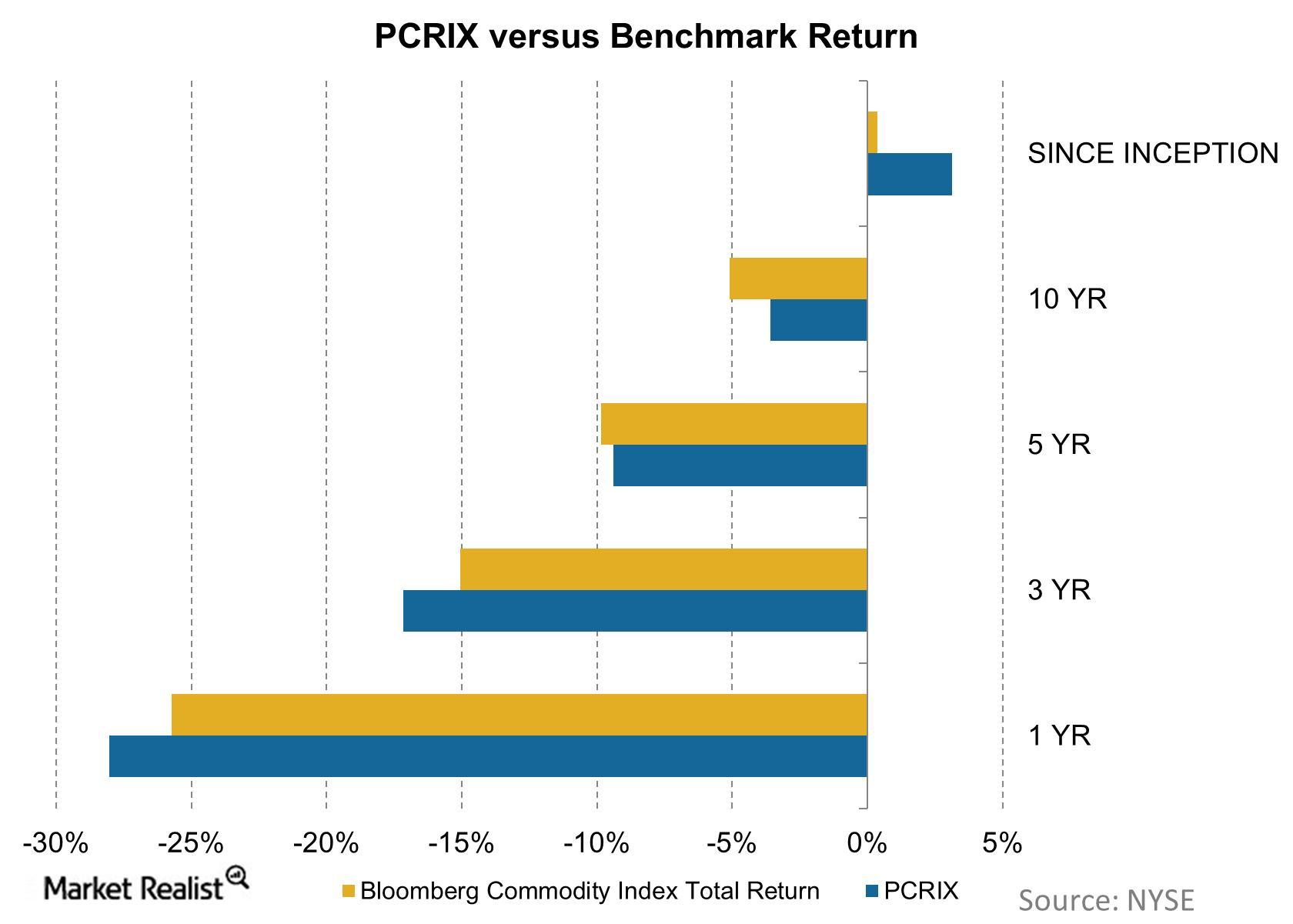 Article continues below advertisement
The primary benchmark for PCRIX is the Bloomberg Commodity Index Total Return, which is an unmanaged index composed of futures contracts on 20 physical commodities. The annual total return of the Bloomberg Commodity Index is -25.7%, higher than PCRIX's annual return of -28.04% in the S&P 500 (SPY). The graph above compares the historical performance of PCRIX compared to that of its benchmark.
Comparison with benchmark
It can be observed from the above graph that PCRIX has given lower returns than its benchmark in the past three years. The primary reason for PCRIX's underperformance is the weak performances of the commodity and fixed income markets.
Similar to the commodity market, the US fixed income market is also suffering due to the global economic crisis and a potential rise in interest rates by Federal Reserve. The collateral portfolio of PCRIX Treasury Inflation-Protected Securities (or TIPS) is very sensitive to real interest rates and may fall in value if interest rates rise.
Substitute to leading hedge funds
PCRIX's net expense ratio is 0.74%, which is much lower than the expense ratios of hedge funds with similar strategies. An investor seeking exposure in commodity market can invest in PCRIX at a far lower cost without any minimum investment constraint, unlike typical hedge funds.
Corporate bonds and borrowings, treasury bills, exchange traded derivatives, and OTC financial derivatives form the major components of PCRIX. Corporate bonds of United Health Group (UEEC), Citigroup (C), Merrill Lynch (IPB), Wells Fargo (WFC), and Morgan Stanley (MS) are present in PCRIX's portfolio.
A detailed holdings analysis of PCRIX is provided in the next part of this series.