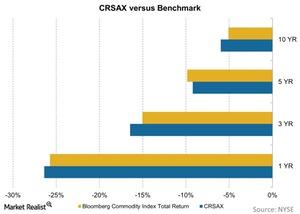 An Overview of CRSAX's Investment Methodology
By Ivan Kading

Nov. 20 2020, Updated 3:23 p.m. ET
CRSAX's investment methodology
Alternative mutual funds are different than traditional mutual funds in that they use hedge fund strategies for their investment purposes. Hedge fund strategies such as market-neutral, merger arbitrage, and equity hedging extensively use leverage for higher exposure in assets in the market.
The Credit Suisse Commodity Return Strategy Fund (CRSAX) is one such alternative fund that uses commodity return strategy to accumulate profits. According to the fund's website, "Credit Suisse offers investors an important diversification strategy through convenient, cost-effective access to commodity markets."
The primary benchmark for the CRSAX is the Bloomberg Commodity Index Total Return, which is an unmanaged index composed of futures contracts on 20 physical commodities.
Article continues below advertisement
Negative return
The above graph compares the historical performance of CRSAX with the Bloomberg Commodity Index Total Return. It can be observed from the graph above that CRSAX has failed to beat its index in all except the five-year period.
The Bloomberg Commodity Index and CRSAX have both given negative returns in the S&P 500 market (VFINX) and are still in a bearish trend due to the poor performance of the overall commodity market.
Alternative option
CRSAX presently trades at $4.47 with an average dividend yield of 3.9%. Investors seeking to diversify their portfolios by having a hedge fund kind of exposure can invest in CRSAX, which is retail investor–friendly, unlike hedge funds.
CRSAX has exposure in commodity markets through commodity-indexed, structured notes of BNP Paribas (BNP) and Deutsche Bank (DB). Short-term time deposits in State Street (STT) also form a significant part of CRSAX's portfolio. CRSAX also consists of US agency obligations of the Federal National Mortgage Association (FNMA) and the Federal Home Loan Mortgage Corporation (FMCC).
A detailed holdings analysis of CRSAX is provided in the next article.