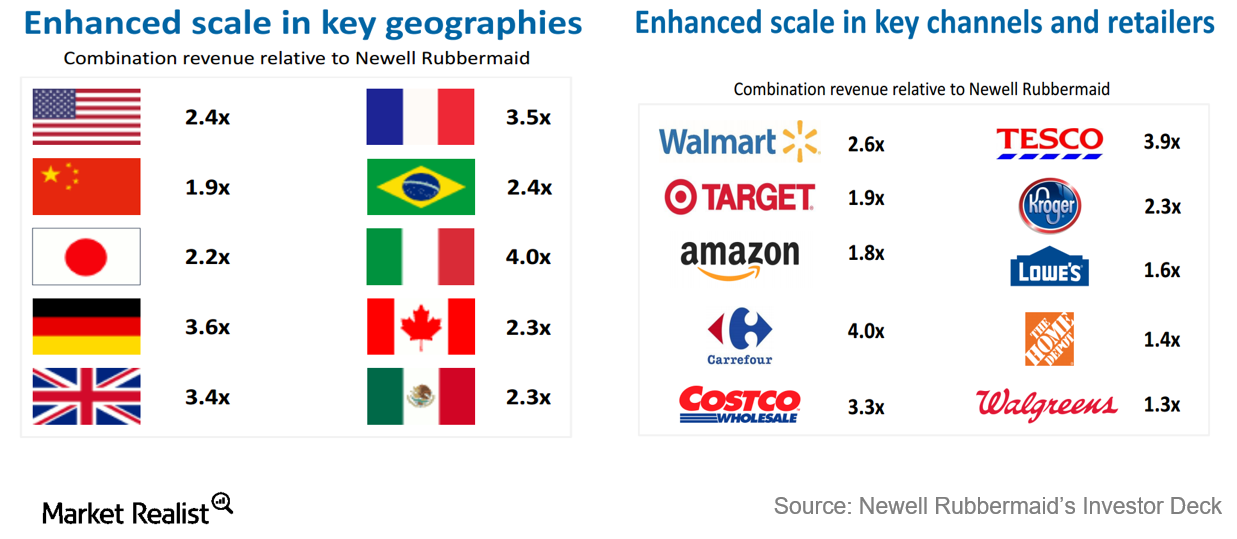 Newell Rubbermaid–Jarden Deal: Cost Synergies
By Sonya Bells

Dec. 22 2015, Updated 3:06 p.m. ET
Merger to create a strong portfolio of brands
The merger of Jarden (JAH) with Newell Rubbermaid (NWL) will create a $16 billion consumer goods company with a strong portfolio of leading brands, including Paper Mate, Sharpie, Parker, Elmer's, Calphalon, Graco, Baby Jogger, Mr. Coffee, Yankee Candle, Goody, Rubbermaid, and Irwin.
The merged company will have 2.4 times the scale in its top 12 geographies and 2.2 times the scale with its strategic customers than the stand-alone Newell Rubbermaid.
Article continues below advertisement
Deal to bring cost synergies
The combined larger entity will be able to achieve economies of scale and increased purchasing power with suppliers and retailers as a result of its greater scale. Newell expects annualized cost savings of $500 million to be realized from the deal over a period of four years, particularly in the areas of distribution and transportation.
While commenting on the synergies that will arise from combining the two companies, Michael B. Polk, Newell Rubbermaid's chief executive officer, stated, "With greater scale will come greater efficiency. Joining this one company will allow us to eliminate duplication in corporate costs, scale procurement benefits, capture substantial savings from consolidating shared services and given the nearly $10 billion in revenue in the U.S. lower our cost to serve, with significant savings in distribution and transportation."
ETF exposure
Investors looking for exposure in Newell Rubbermaid and Jarden may invest in PowerShares DWA Consumer Staples Momentum ETF (PSL), which has 2.7% and 4.4% of its portfolio invested in the companies, respectively. PSL also has exposures of 2% and 3.5% to peers Kimberly-Clark (KMB) and Snap-On (SNA), respectively.