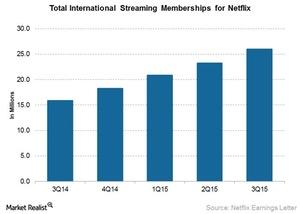 Netflix's Challenges in Acquiring Global Streaming Rights
By Shirley Pelts

Updated
Global streaming rights
Netflix (NFLX) stated at the UBS (UBS) Global Media and Communications Conference, held on December 7, that it has had a difficult time in acquiring global streaming rights for content from media companies. This is due to its status as the sole buyer of streaming rights on a global basis.
Typically, media companies like Sony (SNE) and The Walt Disney Company (DIS) license their content for streaming on a territorial basis. For example, Sony has a regional sales team to sell content streaming rights for specific regions like Asia-Pacific or Europe (EFA).
Article continues below advertisement
However, Netflix, in a bid to expand rapidly in international markets, is pursuing content streaming rights on a global basis. Netflix stated at the UBS conference that this pursuit of global streaming rights has been a major structural change for media companies, as the companies' regional sellers could find their "job marginalized," according to the company. Netflix also stated that it is not looking at buying global content streaming rights at a discount from media companies.
As the chart above indicates, Netflix had 26 million international streaming memberships in 3Q15.
Netflix's international expansion
Netflix expects to have a presence in 200 countries around the world by the end of 2016. Netflix stated that its international streaming segment is expected to break even in 2016 and turn profitable after 2016. After the launch of Netflix in Japan (EWJ) in September 2015, Netflix launched in Italy, Spain, and Portugal in October. The company plans to expand into South Korea, Singapore, Hong Kong (EWH), and Taiwan by 2016.
Netflix's 3Q15 results for its international streaming segment showed revenues of $500 million, up by 49.4% from 3Q14. However, Netflix's international segment's operating losses continued to rise, with losses of $68 million in 3Q15, more than double its losses of $31 million in 3Q14.
Netflix expects operating losses of $117 million in 4Q15. It expects its operating losses to widen further as it expands into more international markets. This is due to content acquisition costs that make up a large proportion of Netflix's cost of revenues.
Netflix makes up 0.47% of the iShares Russell 1000 Growth Index ETF (IWF). Investors interested in gaining exposure to entertainment stocks should note that IWF has exposure of 49.98% to that sector.