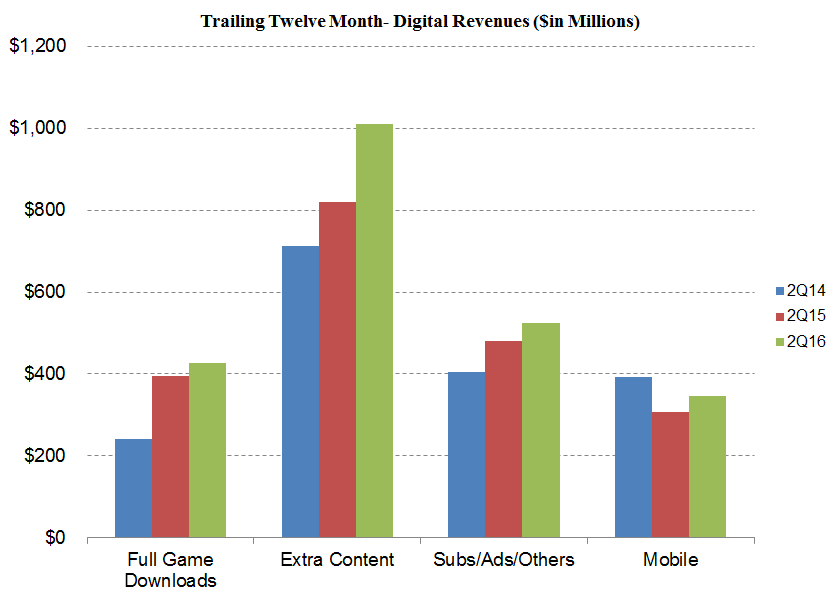 Micro-Transactions Are an Important Strategy for Electronic Arts
Important not to ruin customer experiences
As seen in the below chart, digital revenues have grown at a fast rate for Electronic Arts (EA). In the trailing 12-month period at the end of fiscal 2Q16, digital revenues rose 15% YoY (year-over-year) to $2.3 billion from $2 billion in 2Q15.
Accounting for over $200 million in revenues, micro-transactions present users with the opportunity to buy items that enhance their gameplay.
EA's CFO, Blake Jorgensen, noted, "We think it's an important part of the business model but we're extremely careful that we don't ruin the consumer experience. We want the consumers to feel like they can earn their way to better gameplay but we don't want them to feel like their nickel and dimed all the time and only can get things if they buy them.
"So it's balancing that ability to earn extra content versus only being able to play or pay for it quickly. But it is an important part of the business and it is a part of the business that's continued to grow and we will see continued growth on it."
Article continues below advertisement
EA's strategy has benefited its share price
EA's strategy is a shift from a premium-price model on mobile devices to one that involves in-app and free-to-play purchases. The company's strategic shift toward digital and mobile, coupled with cost controls, has enabled the company to outperform market expectations. We can see the result in the company's share price.
On the back of its game launches, Electronic Arts now expects revenues and EPS (earnings per share) to be $1.8 billion and $1.75, respectively, for fiscal 3Q16. Analysts' expectations for Electronic Arts are $1.7 billion and $1.74 for revenues and EPS, respectively. In fiscal 2Q16, it continued to be the world's top publisher on Sony (SNE) PlayStation and Microsoft (MSFT) Xbox consoles. It also held this position in fiscal 2014.
Microsoft constitutes 8.42% of the Power Shares QQQ ETF (QQQ) and 8.6% of the iShares S&P Global Information Tech ETF (IXN).