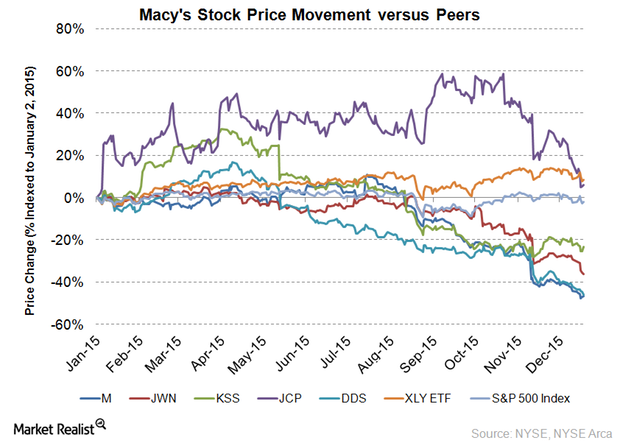 Macy's Investors Disappointed in 2015: Stock Falls More Than 46%
Significant fall in stock price
The stock price for Macy's (M), the largest department store in terms of sales, has fallen a whopping 46.7% this year. On December 21, 2015, Macy's share price fell to $35.02. It fell 11% in December alone. The company touched its 52-week low closing price of $34.50 on December 17.
Article continues below advertisement
Comparison with peers
Department store stocks have been in the red this year, as cautious consumer spending continues to adversely impact performance. As of December 21, 2015, stock prices for Nordstrom (JWN), Kohl's (KSS), and Dillard's (DDS) have declined by 36.1%, 23.3%, and 45.9%, respectively, since the beginning of this year. An exception is JCPenney (JCP) stock, which has appreciated by 6.2% on a year-to-date basis, driven by a consistent improvement in performance.
Macy's stock has underperformed the Consumer Discretionary Select Sector SPDR Fund (XLY), which has risen by 8.5% on a year-to-date basis. XLY has 0.5% exposure to Macy's. As of December 21, the S&P 500 Index has fallen by 1.8% since the start of this year. The SPDR S&P 500 ETF (SPY), which tracks the S&P 500 Index, has 0.1% exposure to Macy's.
Macy's dismal earnings
Macy's adjusted EPS (earnings per share) missed consensus Wall Street analyst estimates in the first two quarters of fiscal 2015. The company exceeded the analyst earnings estimate in 3Q15. A decline in the company's earnings for a third consecutive quarter and dismal guidance adversely impacted its stock price. Macy's stock declined by 14% on November 11, the day its third quarter results were announced.
Macy's 3Q15 adjusted EPS declined by 8.2% to $0.56, mainly due to lower sales. The company's net income, including one-time items, declined by 45.6% to $118 million in 3Q15 because of lower sales and an asset impairment charge of $111 million related to planned store closures.
In Part 3 of this series, we'll look at the continued weakness in Macy's sales.