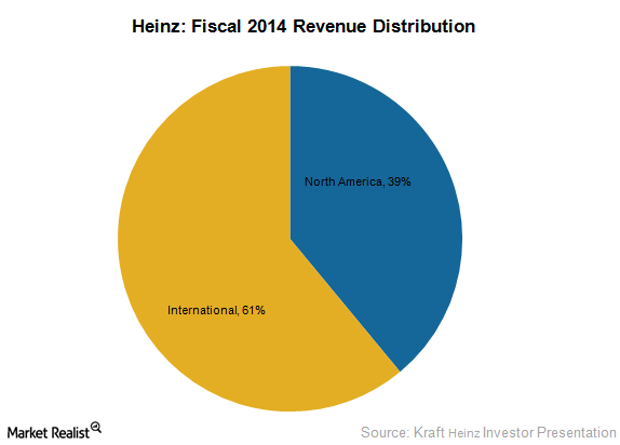 Kraft Heinz Aims to Become an International Heavy Hitter
Strong presence in North America
Before the Kraft-Heinz merger completed in July 2015, the Kraft Foods Group already had a leading position in the North American food and beverage industry. According to 2014 revenue trends, Kraft Foods was the fourth-largest food and beverage company, behind PepsiCo (PEP), Nestlé SA (NSRGY), and the Coco-Cola Company (KO), holding the number one and number two position in 17 core categories. In fiscal 2014, which ended on December 27 for the company, Kraft Foods generated 98%% of its total sales from North America.
Article continues below advertisement
Kraft Heinz's international presence
Heinz, however, was the leading international brand, with 61% of the sales coming from outside North America. Heinz had also been growing in emerging markets, which accounted for 25% of the Heinz sales in fiscal 2014, which ended December 31 for the company.
The following is a rundown of Heinz's positioning prior to the Kraft-Heinz merger:
Heinz held the number one position in ketchup in the US and internationally.
Heinz sauces were ranked third in the US.
Heinz's frozen food and baked beans ranked first in the US.
Heinz's wet baby food held the number one position in Italy.
Heinz's soy sauce was ranked first in Indonesia and third in China.
Heinz's canned vegetables were ranked number one in Brazil.
Heinz's meal replacement, Complan, was ranked number three in India.
Kraft Heinz wants to be an international big gun
While the Kraft Foods Group generated 98% of its fiscal 2014 revenues from North America, Kraft brands have more than 80% awareness in 14 key international markets, whereas Heinz has a presence in 13 of these 14 markets. The combined company, the Kraft Heinz Company (KHC), could have the opportunity to improve its revenue by expanding into the untapped international market through the Heinz platform.
Campbell Soup (CPB), Kraft Heinz's peer in the packaged foods industry (XLP), generated 79.2% of its total revenues from the US in fiscal 2015, which ended on August 2 for the company. Keurig Green Mountain (GMCR) generated 99.9% of its fiscal 2015, which ended on September 26 for the company, revenues from North America. General Mills (GIS) generated 65.9% of its revenue from North America for fiscal 2015, which ended May 31 for the company.
Continue to the next part of this series for a look at Kraft Heinz's designs on Europe.