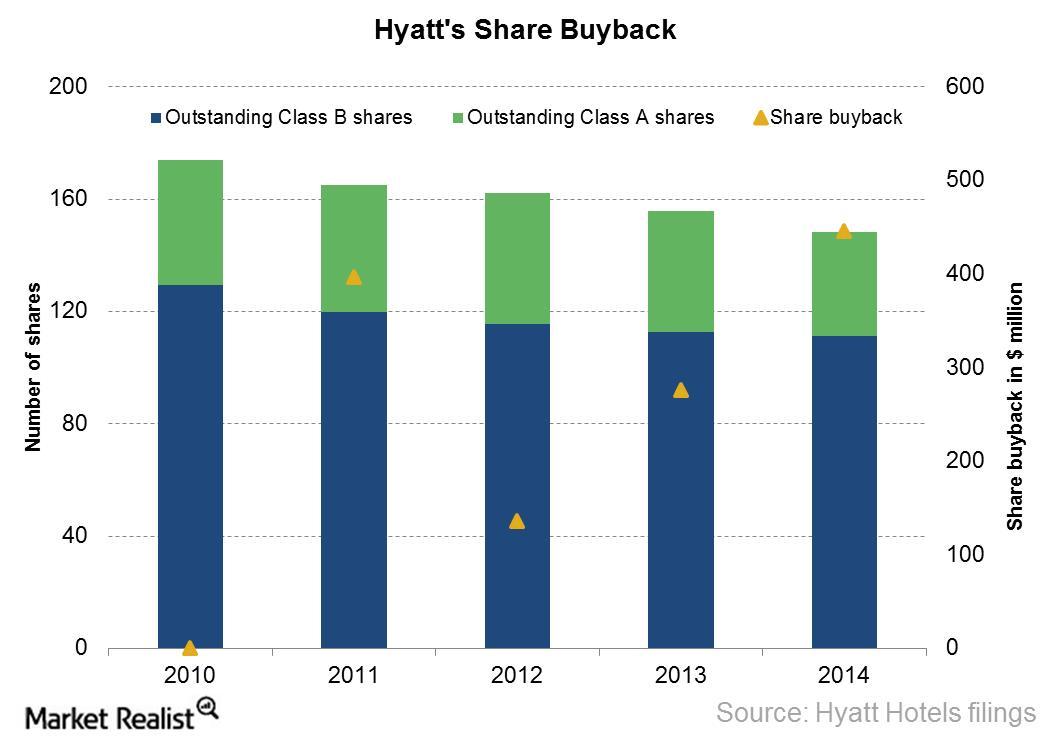 Investor's Must Know: Why Hyatt Is Buying Back Shares
By Sam Matthews

Jan. 7 2016, Updated 1:05 p.m. ET
Share buyback
Share repurchase, or buyback, involves a company buying back shares from its investors. The number of shares outstanding in the stock market is reduced, and the relative ownership of investors increases, as there are fewer claims on the organization's earnings. A company resorts to a share buyback when:
a company does not find a good investment opportunity, and it would prefer to pay investors back in the form of share buybacks.
a large number of shares floating in the market could lead to a decrease in earnings per share (or EPS). After a buyback, the company with fewer outstanding shares will have higher earnings per share.
when a company finds that it is undervalued in the market. This means the market considered the company to be worth more than its actual value.
the company may adopt such measures to adjust its capital financing. Share buybacks can increase the company's reliance on debt financing.
Article continues below advertisement
Share buyback
Hyatt repurchased $445 million of its own stocks in 2014. The company bought back about 7.7 million shares, which accounted for 5.5% of the total outstanding shares, at an average price of $57.8. Previously, the company had bought back $275 million, or 4.7%, of the outstanding shares in 2013. In 2012, it repurchased $136 million, or 2.6%, of its outstanding shares.
The company used the proceeds from asset sales, free cash flow, and cash in hand to repurchase these shares. As of December 31, 2014, the company had $444 million under share repurchase authorization.
No dividends
It is interesting to note that Hyatt has not announced dividends since listing in 2009. Repurchasing shares is a better way of returning capital to the investors than dividends, as the dividends are taxed as regular income. Wyndham has the highest dividend yield among its peers at 2.2%, followed by Starwood (HOT) at 2.0%, Marriott (MAR) at 1.38%, and Hilton (HLT) at 1.19%.
Investors can gain exposure to the lodging sector by investing in the First Trust Consumer Discretionary AlphaDEX ETF (FXD), which invests 9.3% in the sector.