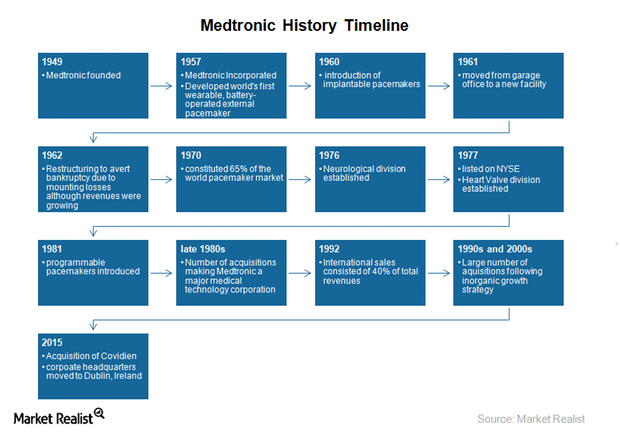 Introducing Medtronic, a Leading Medical Device Company
By Sarah Collins

Dec. 1 2015, Published 2:57 p.m. ET
Medtronic: company overview
Headquartered in Minnesota, Medtronic (MDT) is the world's largest pure-play medical device company. After the completion of its acquisition of the Dublin-based Covidien, Medtronic moved its corporate headquarters to Dublin, Ireland, but the parent company's operational headquarters continue to be based in the United States.
Medtronic has operations across more than 160 countries, employs over 85,000 people, and has more than 53,000 patents. By 1985, Medtronic was listed among the Fortune 500 largest publicly held companies in the US. Medtronic's annual revenues have increased from approximately $1 billion in 1991 to $20 billion in 2015.
Article continues below advertisement
A brief history of Medtronic
Medtronic was founded in 1949 by Earl Bakken, an engineering student, and his brother-in-law, Palmer Hermundslie. The company started as a medical equipment repair shop in a garage in Minneapolis, and over a period of time, it started developing custom medical devices, battery-powered pacemakers being the first of its products.
Medtronic was incorporated in April 1957 and became public through a convertible debenture offering. Gradually, the business grew and the company ventured into manufacturing medical devices. A subsequent growth in sales triggered further investments in research and development, along with an increase in selling and marketing expenses, and soon the company incurred enough expenses to build a new facility. These expenses led to huge losses, however, which led to what appeared to be bankruptcy, until the company secured venture capital funding and bank loans and was able to restructure its business.
Medtronic's shares were listed on the NASDAQ in 1964 and on the New York Stock Exchange in 1977.
Medtronic's mergers and acquisitions
In order to expand its product portfolio and enter new markets, Medtronic has been involved in a number of mergers and acquisitions. It accelerated its pace of inorganic growth in 2015 and entered into a large number of deals.
The most notable of these deals was the acquisition of the Irish company Covidien, in a cash-and-stock deal valued at approximately $50 billion, completed on January 26, 2015. This is one of the largest acquisitions in the medical device industry. Medtronic almost doubled in size after the acquisition and now has added a new product segment, representing approximately 90% of the revenues of Covidien.
Some of the smaller acquisitions that Medtronic entered into in 2015 include the acquisition of Sophono, a privately-held manufacturer of hearing implants, and the acquisition of Diabeter, an independent Netherlands-based diabetes clinic and research center.
Medtronic's industry peers and ETFs
Other major players in medical device industry include Johnson & Johnson (JNJ), Boston Scientific Corporation (BSX), and Stryker Corporation (SYK). The iShares US Medical Devices ETF (IHI) is an exchange-traded fund that has a maximum allocation of approximately 16% to Medtronic.
Continue to the next part of this series for a breakdown of Medtronic's business model.