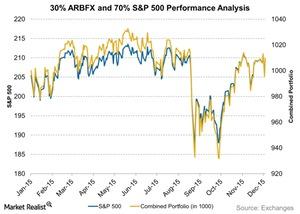 Could Investing in ARBFX Benefit Your Portfolio?
By Ivan Kading

Updated
Merger arbitrage
Alternative funds using the merger arbitrage strategy are a great diversifying agent. Since alternative mutual funds aggressively use hedge fund strategies for achieving their investment goals, they are less sensitive to the market's trend movements. They help reduce the overall risk in one's portfolio while increasing its profit-making potential. The Arbitrage Fund Class R (ARBFX) is one such alternative fund that uses the merger arbitrage strategy extensively. Supreme Industries (STS), Harris (HRS), PartnerRe (PRE), Williams Partners (WPZ), and AbbVie (ABBV) are the top equity holdings of ARBFX.
Article continues below advertisement
Reduced volatility risk, reduced return
The above chart compares the market performance of a portfolio of 30% ARBFX and 80% S&P 500 (VFINX) with the S&P 500 itself. The combined portfolio has underperformed the index, though it has reduced the overall volatility of the portfolio. As of December 22, 2015, the YTD (year-to-date) return of the combined portfolio is 0.17%, lower than the S&P 500's YTD return of 0.2%.
Conclusion
Merger arbitrage alternative mutual funds seek to gain returns from arbitrage opportunities that exist when a merger between two or more companies takes place. They aim to provide profit to the investor at a minimal risk. Similarly, different alternative funds are designed for different investment goals and should be invested into after due consideration. To read more about alternative funds, you can read our series on the PIMCO Commodity Real-Return Strategy Fund (PCRIX).