Introducing Abbott Laboratories, a Leading Global Healthcare Company
Abbott Laboratories operates across more than 150 countries, employs over 73,000 people, and is the global leader in the nutrition subsector.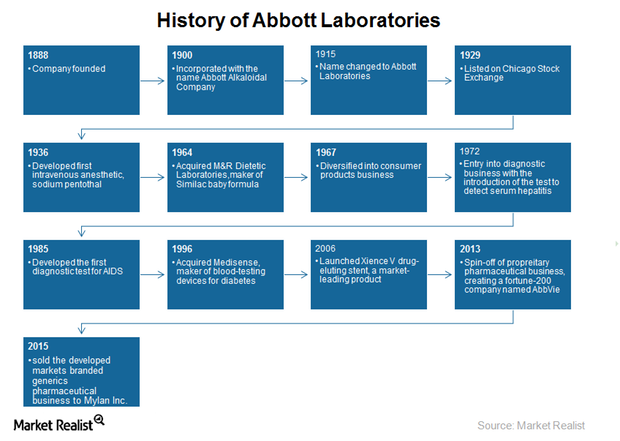 Abbott Laboratories' company overview
Abbott Laboratories (ABT) is a global healthcare company with well-diversified operations across geographies and business segments. Headquartered in Illinois, Abbott Laboratories operates across more than 150 countries and employs over 73,000 people. It's the global leader in the nutrition subsector and the first company to develop a diagnostic test to screen blood for the presence of HIV.
In 2014, Abbott Laboratories reported annual revenues of $20.2 billion, which represents a YoY (year-over-year) revenue growth of around 20.1%.
Article continues below advertisement
Article continues below advertisement
A brief history of Abbott Laboratories
Abbott Laboratories was founded by Wallace C. Abbott in 1888 under the name Abbott Alkaloidal Company. Wallace C. Abbott was a physician and owned a drug store. The company started as a manufacturing firm for alkaloid pills, nitrogen-containing chemicals made by plants, such as morphine, nicotine, and quinine, which were previously available in liquid form making them susceptible to spoilage over time. Incorporated in 1900, the company changed its name to Abbott Laboratories in 1915.
With the growth in its business, Abbott started investing aggressively in marketing and R&D (research and development) and got listed on the Chicago Stock Exchange in 1929. The company started its international expansion two years later.
In 1936, Abbott scientists Ernest Volwiler and Donalee Tabern developed sodium pentothal, the first intravenous anesthetic. Both inventors were inducted into the US Inventors Hall of Fame in 1986.
Bans, recalls, and acquisitions
During the 1970s, the company faced a major crisis due to the ban of cyclamates that accounted for about one-third of the company's consumer products business. Cyclamates are artificial sweeteners that were found to cause cancer. Abbott Laboratories also had to recall 3.4 million bottles of the intravenous solution after a large number of incidents of infection in patients was reported.
Over the years, Abbott Laboratories developed a number of breakthrough products in the history of healthcare such as anesthetics, artificial sweetener, and diagnostic tests for AIDS and hepatitis. The company also expanded its product portfolio through a number of acquisitions over the years, such as the acquisitions of M&R Dietetic Laboratories and MediSense, which manufacturer Similac baby formula and blood-testing devices for diabetes, respectively.
Article continues below advertisement
Restructuring and spin off
In 2012, Abbott Laboratories went through a major restructuring, separating into two companies and retaining its medical products business under the name Abbott Laboratories. The research-based pharmaceuticals business was spun off and named AbbVie (ABBV). The spin-off became effective as of January 1, 2013.
In 2015, Abbott sold its developed markets branded generics pharmaceuticals business to Mylan Incorporated, a global pharmaceutical company registered in the Netherlands. The company completed the deal on February 27, 2015, for 110 million shares of Mylan NV, a newly formed entity that included existing operations of Mylan Incorporated with the acquired product segment of Abbott Laboratories.
Abbott's competitors and ETF exposure
Other major players in the medical device industry include Medtronic (MDT) and Boston Scientific Corporation (BSX). To gain exposure to Abbott Laboratories (ABT) without investing directly in the company, investors can check out the iShares US Medical Devices ETF (IHI), which has around 10.6% of its total portfolio in ABT.
Before discussing Abbott Laboratories' strategies, fundamentals, and analyst recommendations, let's take a look at the company's business segments.