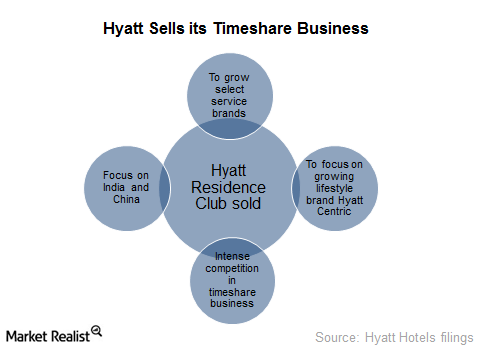 Why Did Hyatt Sell Its Vacation Ownership Segment?
ILG buys Hyatt Residence Club
As discussed earlier in this series, the vacation ownership business of Hyatt Hotels (H) was the Hyatt Residence Club. The company sold off Hyatt Residence Club in October 2014 to Interval Leisure Group (ILG) for $222 million.
Thus, Hyatt will not be in the business of developing, marketing, selling, and managing vacation ownership and related products. Hyatt entered into a long-term agreement with ILG to allow the Hyatt trademarks to be used in return for a licensee fee.
Article continues below advertisement
Hyatt's focus on growing its presence and Select Service segment
Hyatt is focusing on increasing its presence to under-penetrated markets. The company believes that its presence in emerging markets such as India and China is essential for its growth. Complementing its growth strategy in China and India is its focus on the Select Service segment. The company believes that brands such as Hyatt Place and Hyatt House that provide select services at A lower price point are more suitable for these markets, which attract a growing percentage of middle-class and business travelers.
Other possible reasons for Hyatt backing away from its timeshare business could be intense competition in that segment from Wyndham (WYN), Marriott (MAR), and Starwood (HOT). Apart from its traditional competitors, the timeshare business is also facing tough competition from online marketplaces such as Homeaway (AWAY) and airbnb. These businesses offer vacation properties at economical prices, allowing customers to avoid paying a large upfront fee and annual maintenance fees.
Investors can gain exposure to the lodging sector by investing in the First Trust Consumer Discretionary AlphaDEX ETF (FXD). FXD invests 9.3% of its portfolio in the lodging sector, which includes 0.5% in Hyatt and 0.3% in Marriott (MAR).