How Does Hyatt Make Money from Its Hotels?
Hyatt (H) operates its hotels and other business segments under three models: franchise, management, and ownership models.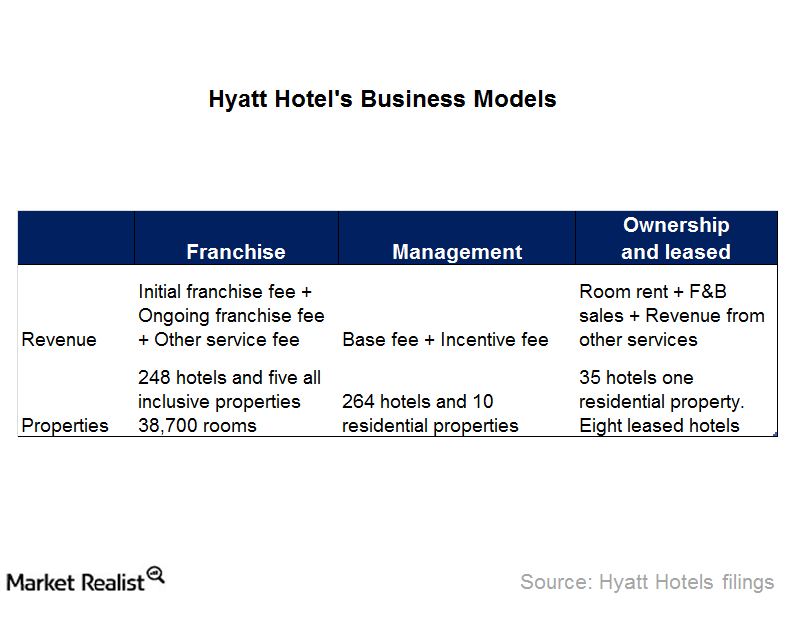 Overview
Hyatt (H) operates its hotels and other business segments under three models: franchise, management, and ownership models. Hyatt has a higher percentage of hotels under its ownership model compared to competitors such as Wyndham (WYN), Marriott (MAR), Starwood (HOT), and Hilton (HLT). We will discuss each of these models in detail.
Investors can gain broad-based exposure to Hyattby investing in the PowerShares DWA Momentum Portfolio ETF (PDP) that invests 7.4% in the lodging sector.
Article continues below advertisement
Article continues below advertisement
Franchise model
In the franchise model, Hyatt allows hotel owners to use one of the brand names and charges a percentage of room sales earned by the hotel in return. Typically, Hyatt charges 5% of the gross revenues for select service brands as its franchise fee against the industry average of 4.5%. For full-services brands, Hyatt charges 6%, which is higher than the industry average of 5.6%.
The revenue earned also includes an initial franchise fee and an "other service" fee. In return, hotel owners receive access to trademarks, global sales efforts, operations support, training, and distribution channels associated with Hyatt Hotels. There are 248 franchised hotel properties with 38,700 rooms and five all-inclusive properties.
Management model
In addition to the services provided in the franchise model, Hyatt also provides professional oversight and comprehensive operations support to hotels in the management model. Other services provided include:
hiring, training, and supervising the hotel managers and employees
annual budget preparation
local sales and marketing efforts
financial analysis
food and beverage services
In return, Hyatt Hotels charges a base fee and an incentive fee, which are pegged to the hotels' revenues and operating profits, respectively. There are 264 managed hotels with 84,300 rooms and ten residential properties.
Ownership model
In the ownership model, Hyatt Hotels is completely responsible for the day-to-day operations of the hotels. The company may either lease or own the property and completely bears both the risk and rewards related to the hotel's operation.
Revenue earned under the ownership model includes 100% of the revenue earned from the owned hotels. There are 35 hotel properties and one residential property that are completely owned, as well as eight properties under lease.