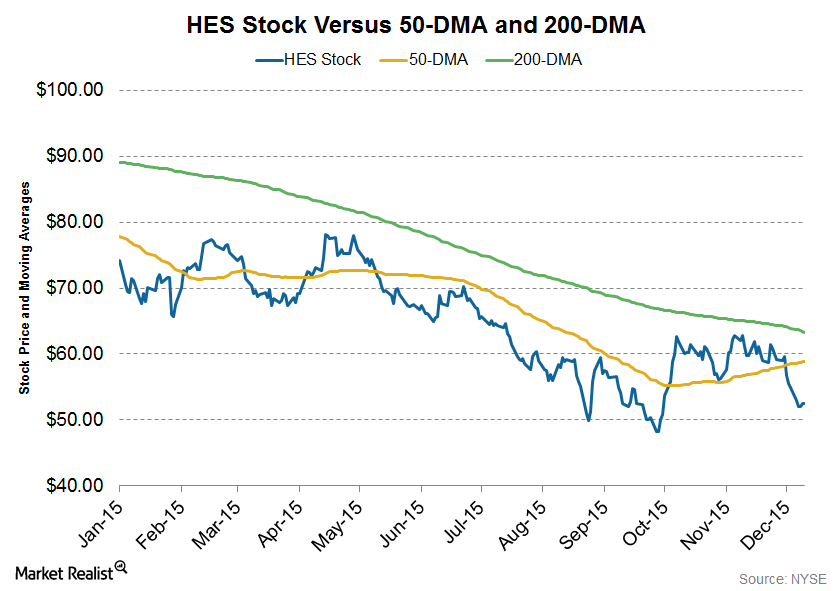 Hess Moves below its 200-Day Moving Average
<p>On December 11, 2015, Hess was trading 17% below its 200-day moving average, a strong upside resistance for the stock. It has narrowed the gap considerably since October.</p>
Hess's moving averages
Hess (HES) is an independent oil and gas exploration and production company headquartered in New York. As we can see in the graph below, on December 11, 2015, Hess was trading ~11% below its 50-day moving average.
HES broke above its declining 50-day moving average (or DMA) in October 2015 and remained above it until December 2, 2015.
On December 11, 2015, HES was trading ~17% below its 200-day moving average, a strong upside resistance for the stock. HES narrowed the gap between its 200-day moving average considerably since October 2015. But in December it has again started to move away from its 200-DMA.
Article continues below advertisement
Article continues below advertisement
Hess's stock movements in 2015
Hess's stock has mostly been on a declining trend since May this year. It accelerated at the beginning of 3Q15. Weaker crude oil prices in the third quarter were the major reason behind this.
On September 28, 2015, Hess fell to its lowest price for 2015, hitting $48.26. However, it has since recovered from those levels by 9.4%. As you can see in the above graph, Hess has been on an uptrend since October. However, following the sub-$40 crude oil price settlement on December 2 and weaker prices in general, Hess has fallen lately. YTD (year-to-date), Hess's stock has fallen by 29%.
A quick earnings review compared to peers
Hess reported a 3Q15 adjusted net loss of $291 million, which compares to adjusted earnings of $332 million in 3Q14.
Hess's peers Apache (APA), Anadarko Petroleum (APC), and Marathon Oil (MRO) recorded adjusted net losses of $21 million, $358 million, and $138 million, respectively, during the same period. For an in-depth analysis of Apache, read Market Realist's Apache: A Key Investor Overview.
These companies combined make up ~5% of the Vanguard Energy ETF (VDE).
Next, we'll take a deeper look at Hess's stock movements and key management objectives in 4Q15.