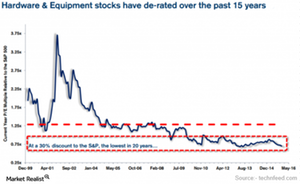 IT Hardware and Cloud Computing Have an Inverse Relationship
By Parker Thomas

Updated
IT hardware growth to reach 2%
One of the major concerns for computer hardware and server manufacturers is the declining spending of business enterprises. As organizations embrace cloud services, they reduce spending up front for building IT infrastructure. Moreover, the trend will continue in 2016.
Credit Suisse reported that the future for IT hardware is getting blurred, as a survey of 59 chief information officers reveals that companies' budgets are decelerating. Enterprises are increasingly transitioning to adopt cloud software and services, which in turn increases their "computing activities online" compared to "on-site hardware." As a result, Credit Suisse has estimated growth of IT hardware to be at 2% each for 2016 and 2017 compared to this year's growth rate of 2.5%.
Article continues below advertisement
Credit Suisse estimates
On the other hand, cloud service providers' revenues are shooting up. They are taking advantage of faster computing speed by building their own data centers with complex networks, which reduces the cost and increases transaction speed and volume. Credit Suisse estimates that on average, around 53% of the enterprises across all the sectors are investing in the public cloud, and they will be allocating 21% of total long-term spending with a public cloud provider in 2016 compared to 16% in 2015.
Ironically, the decline in demand for IT hardware peripherals contrasts with the rising demand for cloud computing. Regardless of their scale and size, companies started shifting their work to the cloud to gain productivity and ensure security over the public cloud.
The PowerShares QQQ (QQQ) is a portfolio of 107 stocks out of which the top four stocks are Apple (AAPL), Microsoft (MSFT), Amazon (AMZN), and Google (GOOG), which constitute 13.0%, 7.4%, 5.1%, and 4.5%, respectively.