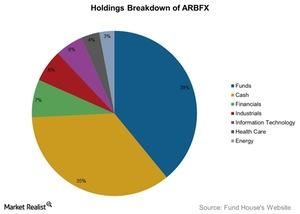 A Detailed Structural Holding Analysis of ARBFX
By Ivan Kading

Updated
ARBFX's holdings summary
As of November 30, 2015, The Arbitrage Fund Class R (ARBFX) manages total net assets worth $1.9 billion. The top ten holdings of the fund form 43.3% of its portfolio. A major portion of the assets is invested in the State Street Institutional Liquid Reserves Fund (SSIXX). This investment helps the fund generate consistent, positive absolute returns, irrespective of the equity market performance. Since the fund is actively managed and requires continuous trading, it has a high net expense ratio of 1.5%.
Article continues below advertisement
Portfolio breakdown
The chart above gives a portfolio holding breakdown of ARBFX. As mentioned earlier, a major component of ARBFX is the SSIXX fund. In addition to that, ARBFX is invested in financial, industrial, information technology, healthcare, and energy sector stocks. William Partners (WPZ), AbbVie (ABBV), Harris (HRS), and Jazz Technologies (JAZZ) are some of ARBFX's significant holdings.
Shorting acquiring company
According to the prospectus of the fund, "the most common merger arbitrage activity, and the approach the Fund generally uses, involves purchasing the shares of an announced acquisition target company at a discount to their expected value upon completion of the acquisition."
The fund can also use various derivative instruments for carrying out the merger arbitrage by taking a long position in the target company and a short position in the acquiring company. The primary purpose of shorting the acquiring company's securities is to protect against a decline in its market (VFINX) value securities prior to the acquisition's completion. In the next part of this series, we'll analyze the effect of adding ARBFX to your portfolio.